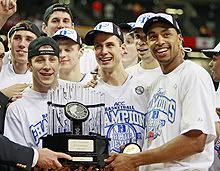 ↵A piece by Seyward Darby of
The New Republic
explains that, in her opinion,
Duke sees more gay-based insults
than any other program in the nation.
↵
↵⇥For many Duke bashers, expressing anti-gay sentiment seems to be just one more way of delivering the message that Duke players are whiny, wimpy, pampered products of privilege. ↵
↵David Roth of CSTB has
a thorough investigation into the phenomenon
, taking it back to Christian Laettner's apparent practical joking with bosom buddy Brian Davis.
TNR
's Jason Zengerle
disputes the notion
by tying the homophobic attacks more to the current state of young male discourse -- something both sad and true. A lot of college males aged 18-40 are stupid, ignorant and homophobic. A lot of college males aged 18-40 go to college basketball games, comment on message boards, and record satires for YouTube. (Err...)
↵
↵But I think there might be something specific to basketball, where swagger rules. The particular players Darby discusses -- Kyle Singler, Greg Paulus, J.J. Redick -- have either no swagger or a very un-basketball style of swagger. Darby mentions Redick's habit of holding his hand up with a relaxed wrist after nailing a jumper. Only Ray Allen can get away with this. When you hit a big shot in basketball, you're supposed to indicate you have giant (ahem) onions (see: Sam Cassell), pop your jersey, pound your chest, pump your fist, or ride your invisible horse back on defense (see: Francisco Garcia -- seriously). White players can have swagger -- white Duke players, based on history, do not have it. It's not right or wrong, but it's a bit of cultural basketball anthropology we can't ignore.
↵
↵Further, there are three basketball plays that provide ultimate individual embarrassment, for most stylistic reasons: getting rejected at the rim, getting put on your tail by a cross-over, and ... getting dunked on. The visual involved in getting dunked on sometimes involves a crotch in a face. That's a universal sign of basketball embarrassment. Nike built
an ad campaign around it
. Duke players always try to draw charges -- it's a Coach K doctrine. Hence, we end up with a lot of images featuring athletic crotches entering the personal space of Blue Devil faces. Can we really expect the lowest common denominator to let that slide without jocular comment?
↵
↵(And 1: how does the Chevrolet commercial with Howie Long sarcastically disparaging the guy with a "man-step" fit into all of this?)↵
This post originally appeared on the Sporting Blog. For more, see The Sporting Blog Archives.