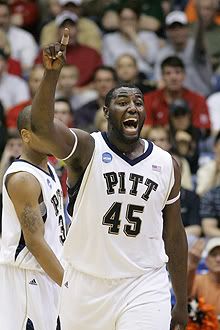 ↵Pitt hasn't had a season like this in a long time, so maybe the Panthers want every possession to feel like its their last. Let the magic never end!
↵
↵This is all a roundabout way to make an excuse for Pitt's second straight nail-biter against an inferior foe, with the Panthers holding on
to beat Oklahoma State 84-76
in an incredibly competitive game. Everything in post-game analysis is theory, but you start to wonder if Pitt's one of those teams (
those
teams) that plays up or down to their competition. Against UConn, Pitt is full of street brawlers angling for fist fight. Against teams like Oklahoma State, there's just no hurdle to overcome ... until the closing minutes (when Sam Young takes over). Thankfully, Pitt will start drawing good teams now. Maybe we can see full-on PITT Basketball.
↵
↵* The Cinderella State Vikings actually put a spook into Arizona in the second half, but Nic Wise earned his surname (about time, kid!) and the Bubbly Wildcats
punched their Sweet Sixteen tickets
. (Note: I don't believe teams actually board a train to get to the Sweet Sixteen.)
↵
↵*
Xavier vanquished Wisconsin
(one of the slowest teams in the nation), thank goodness. Some folks like Bo Ryan's swing offense, even
comparing it favorably to the Princeton
! (Heretics will be burned, once my tears dry.) The Princeton (with 2007 Georgetown being a favorite example) is slow for a purpose. The swing takes some very basic post-entry plays and makes it develop slowly for effect. The effect of boring the crap out of America.
↵
↵(Sorry, don't know what got into me there. Oh, wait. Yes I do. Having to watch Wisconsin for 10 minutes got to me. End whine parenthetical dispatch.)
↵
↵*
Kansas vanquished Dayton
. I have no desire to express scorn for Dayton. Cole Aldrich had a dirty triple double: 13 points, 20 rebounds, 10 blocks. Some blogger will wonder aloud if Aldrich might deserve Blake Griffin's bestowed No. 1 spot. Said blogger might be me.↵
This post originally appeared on the Sporting Blog. For more, see The Sporting Blog Archives.