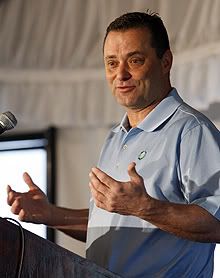 ↵(All! Gillispie! All! The Time!) Billy Gillispie finally
got caught
by the d(er)anged Lexington press corps; luckily, he was able to find an empty bathroom in which to shave and change shirts first, Richard Kimble style. He gave a credible, creditable speech on his disappointment about the way the season went down. He answered questions, too -- no fake phone conversation! His attorney's answers might be more relevant, though.
↵
↵At question is the $6 million payout outlined in Gillispie's contract with Kentucky -- $1.5 million for every year left on the deal, of which there are currently four. On Friday, Kentucky officials said the contract was more of an informal understanding -- a "memorandum of understanding," if you will.
Billy's suit disagreed on Saturday
, and said Gillispie expects the full $6 million. Sounds more like a memorandum of misunderstanding!, am I right? ↵
↵⇥When asked if he'd be willing to go to court to force UK to pay Gillispie the $6 million buyout specified in the memo, [Billy's lawyer Stuart] Campbell said, "It's what I do for a living. . . . I'm an attorney and I litigate." ↵
↵It's, you know, in his job description, right above "kick ass" and below "take names." As for the coaching possibilities, Billy Donovan still hasn't changed his mind (give him 48 hours, right Orlando?) and John Calipari hasn't sent out the bat-signal yet. Maybe the most interesting name to begin cropping up is
Reggie Theus
, who fits the character mold (in that he loves attention, has fantastic hair and could talk a caterpillar out of its cocoon) and is available. Also, he learned at the breast of Pitino, which will really motivate the Lexington faithful.↵
This post originally appeared on the Sporting Blog. For more, see The Sporting Blog Archives.