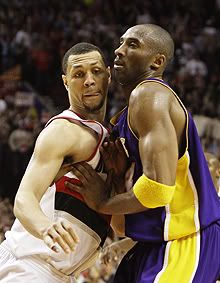 On Friday, Shoals eloquently
dispatched any hopes Denver or Houston
have of supplanting the Lakers in the Western Conference playoffs. I tend to agree; Houston I'd give a puncher's chance if Daryl Morey hadn't
"tugged on Superman's cape"
through Michael Lewis' Battier profile a few months back. Kobe isn't losing to Houston. Not this year.
↵
↵What about the Blazers, though? After Friday's loss, the Lakers have lost eight straight games in Portland. The Rose Garden has been a difficult spot for all the NBA this season, and there's no shame in a few road losses to a good team. But understand that eight games stretches back four years. The Blazers have not been a good team for four years. In fact, they were completely awful for two of those years.
↵
↵Still, Kobe's not sweating it. From the
Lakers' official Twitter feed
: ↵
↵⇥After the game, Kobe Bryant said he would "(bleep) love to" face the Blazers in the playoffs. He had 32 points in the loss. ↵
↵Kobe's the most prideful dude in the league (to a fault sometimes), so instead of confidence read this as the desire for revenge. As
Kevin Pelton of Basketball Prospectus detailed
, Brandon Roy completely destroyed Kobe in the pair's one-on-one string late in the fourth. Roy got off good shots while Kobe took contested fallaway threes. (And one could argue that Roy belongs higher on MVP ballots than Kobe.) For better or worse, if the Lakers and Blazers do meet in May, K.B. will be coming after Roy. Hard.↵
This post originally appeared on the Sporting Blog. For more, see The Sporting Blog Archives.