As we covered a few months back, Dustin Pedroia is royalty in his hometown of Woodland, Calif.,
even if his brother is an accused molester
. So when the beloved MVP goes
on record with Boston Magazine
, saying that his hometown is "a dump" and that "everyone wants to get out of there ... the place sucks," the locals feel personally aggrieved.
↵
↵Quite aggrieved.
↵
↵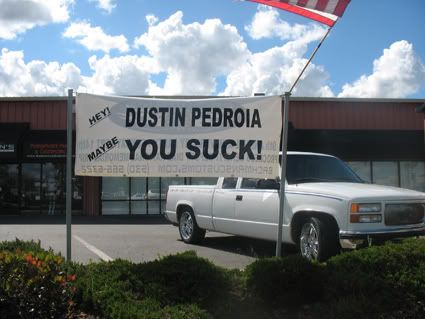 ↵
↵That photo (taken outside a local motorcycle shop) is from
the blog of a politician
, who has asked residents to calm down with the Pedroia hate. The fellow who
called in death threats
aimed at every male member of the Pedroia family (!) should heed that advice. But it's hard not to understand where the angst comes from. Working class folks don't usually enjoy being urinated on by 25-year-old multimillionaires.↵
This post originally appeared on the Sporting Blog. For more, see The Sporting Blog Archives.