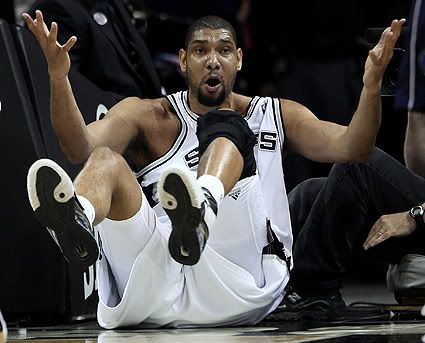 ↵
↵A medley of NBA analysts provided a melody on Sunday's ABC pregame show before Lakers-Jazz, unanimously arguing that the Spurs,
victims of the Mavericks on Saturday
, are done. The dynasty has ended, said Jon Barry and Magic Johnson with no argument from Mike Wilbon or Stu Scott. That ubiquitous statistic during the playoffs' opening weekend -- the Game 1 winner finds series victory 80% of the time in the first round -- gets trotted out, the lack of assistance for Tim Duncan and Tony Parker is noted, and that's it. No debate allowed.
↵
↵How soon we forget the last 1,400 times the Spurs have had one leg in the grave. Like two seasons ago, when the Spurs
fell to the 'Melo/Iverson Nuggets in Game 1
in San Antonio
. If I recall correctly, Duncan was stunted by Nene (in a coming-out part of sorts for the Brazilian) and Manu had seemingly lost the Magic. If the 2006 Kings (that unforgettable Artest/Bonzi squad) exposed the weakness in S.A.'s exoskeleton before submitting to defeat, the New Jack Nuggets would provide a fatal blow. Except the Spurs ran off four straight to knock out Denver, then lost a total of three more games on the way to Title No. 4.
↵
↵For years, analysts have been racing each other pronounce the correct time of death for the Spurs. In the process, they have all been wrong. Pardon me, after watching S.A. dominate the Mavs for more than a half before submitting to incredibly hot shooting, for having a little patience with a team that has proved its power time and time again.↵
This post originally appeared on the Sporting Blog. For more, see The Sporting Blog Archives.