Welcome to Then & Now, where Shoals sums up the week in NBA hoops and tells you what to look for. Find it here every Sunday evening.
↵
↵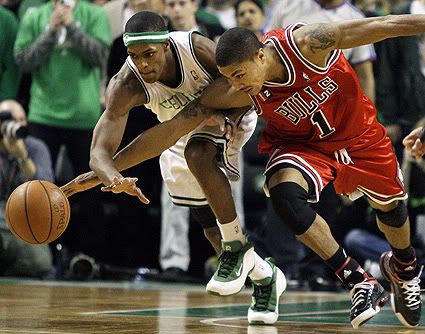 ↵

↵The Upsetters
: First, it was the Bulls stunning the KG-less Celtics in Boston. Either Garnett really is that essential, or we greatly underestimated Derrick Rose's learning curve. Probably some of each. What also got buried was that Rajon Rondo might be on the same track. His 29 points, 9 boards, and 7 assists were nearly as impressive as Rose's 36 points and 11 dimes—though he was the one guarding this year's putative Rookie of the Year. Not to take anything away from Philly, especially
Iguodala's buzzer-beater
. But their win over Orlando had an awful lot to do with the Magic's late collapse, an injury-related Dwight Howard absence, and poor shooting from Lewis and Turkoglu.
↵
↵
A Maverick's Maverick
: Okay, so it's unusual to see the Mavs, the sixth seed in the West, knocking off the Spurs at home. San Antonio always finds a way to win, so who cares if they're aging, and without Manu? Right? Maybe not. But let propose another theory: Dallas, for the first time since their Finals in run in 2006, are a real underdog. This is a franchise that was used to losing, then made in the image of their misfit coach and wacko owner. With Avery Johnson came discipline, seriousness . . . and the crushing round one loss to the Warriors in 2007. Least season, they were expected to put the upstart Hornets in their place, and instead got clobbered. Now, though, the Mavs are better than anyone thinks, out to silence the doubters, and once again on the wrong side of common sense.
↵
↵
No Melo, No Problem
: Chauncey Billups made Denver into a disciplined team with a defensive conscience. Chauncey Billips taught the profligate Nuggets the value of teamwork. He also helped Carmelo Anthony become a better all-around player by giving other players the ball. So it was a little bizarre to see Billups lead these new Nuggets to a 113-84 win over New Orleans by looking more like the Chauncey of his T-Wolves day, sinking eight threes and finishing with 8 points. Then J.R. Smith took over, finishing with 19. Anthony? A measly 13 points on the night. We've been saying that Denver would eventually need Melo's firepower, but maybe he'll end up the odd man out in these playoffs.
↵
↵
FILM CRITIC:
↵
↵ ↵
↵
↵I know, the NBA isn't just about dunking. And this Josh Smith guy played a pretty well-rounded game, finishing with 23 points and 10 boards. However, for anyone who thinks the dunk is overrated, who doesn't understand that these plays are worth more than two plays, who doesn't get how much momentum and crowd frenzy matter in the playoffs, especially to a young team . . . well, you obviously didn't watch this afternoon's Hawks/Heat massacre. Besides leading the team in scoring, Smith repeatedly ignited his team and his fans alike by saying, with plays like these. The kind that say loud and clear, "this game is ours." ↵

↵
↵LOOKING FORWARD:
↵
↵
↵
-
Aaron Brooks dropped 27 points
in the Rockets' Saturday win over Portland. Yao Ming didn't miss a shot, which is about the level Houston should expect him to play on. But for Houston to have a serious shot at a title, they need
a less mercurial perimeter option than Ron Artest
. Brooks showed he was capable of this kind of production in the regular season; if he can do it under postseason conditions, this team becomes that much more complete. Caveat: Let's see him burn someone other than Steve Blake before we set this one in stone.
↵
↵-Okay, seriously,
what does Boston do?
Well, they hope for a real game from Ray Allen, who managed only 4 points in the loss. Then again, John Salmons, Ben Gordon and Brad Miller can do better for Chicago. The real question is whether the Celtics need Garnett to muster the kind of defensive intensity that so handily dispensed with the Lakers in the Finals last year. Or come up with some kind of plan to
neutralize Rose
as a scorer and make everyone else carry the offensive load. When you put it like that, though, it seems like this is a symbolic challenge meant to
see if the Celtics really are still in the hunt
, or if this patchwork Bulls team can get the best of them.
↵
↵-Not to be a total downer, or take money of the league's pockets, but I'm not sure I'll be paying much attention to Cavs/Pistons, or any more Lakers/Jazz games at Staples.
I don't want to burn out on basketball before the super-competitive series roll around
. This is not a prediction, it's a matter of survival.↵
This post originally appeared on the Sporting Blog. For more, see The Sporting Blog Archives.