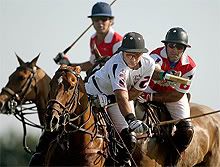 Equine sports get some otherwise tolerant sports fans queasy. Recent developments about steroid use have produced backlash toward breeders, and the injury to former champ Barbaro truly captured the imagination of the world, with both sympathy and rationalist skepticism (as known as "laughing at the people who cared so much"). Through malfeasance or misfortune, the matter gets more immediate today, as at least 21 (but possibly more than 30) polo horses have
dropped dead in south Florida in preparation for the U.S. Open tournament
, according to the
Sun-Sentinel
.
↵
↵The horses belonged to a Venezuelan team, Lechuza Caracas. The
Sun-Sentinel
quotes a veternarian who indicates it's likely a poison of some kind, with contaminated feed, water or bedding the most likely culprits. There's a massive investigation going on. The report says that each team typically brings 24 horses to a tournament; if the number of victims is 30 or more, that'd indicate more than Lechuza suffered losses.
↵
↵I'll leave the rest of the world to argue about cruelty and the like while trying to supress the horrible image of watching two dozen ponies keel over. It's like some sick science fiction novel.↵
This post originally appeared on the Sporting Blog. For more, see The Sporting Blog Archives.