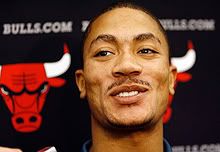 I already
wrote this morning
that the Celtics have a real mettle test in front of them now. But according to
The Boston Globe
, I'm missing a big part of the situation: ↵
↵⇥Imagine a point guard-size LeBron James. Kind of intimidating, huh? Well, that's how one NBA scout described what the Celtics are dealing with right now in Chicago rookie Derrick Rose . . . "He's a LeBron guard," one Eastern Conference advance scout said. "His power and speed is unmatched. It can be Rajon Rondo. It could be Chauncey Billups. It doesn't matter. He'll outpower you." ↵
↵With all due respect, this scout either needs to be fired, is working for Celtics PR department, or both. Dealing with Rose is the major issue; I fully acknowledge that with that game, he might have made a leap into the league's most rare air. Yes, with that one game. So any attempt to squelch or contain him will take more than a little effort and intelligence. And while tonight, Boston might have to contend with better contributions from some other Bulls, those probably won't make or break the game. It's all about keeping Rose from taking over the game. Maybe punching him in the lane (this team's tough and physical, right?), or otherwise forcing him to the jumper non-stop; maybe you focus on blanketing his key options. I don't know -- the Celtics are the ones employing defensive genius Tom Thibodeau.
↵
↵I don't think, though, that trying to convince the world that Derrick Rose is the Second Coming of the Second Coming is an effective mind game. Are the Celtics lowering expectations -- or pumping up Rose's ego -- so they can sneak up on him? Or so fans and media will go easier on them, as if Rose's dissection of this defense proves he belongs in a class with basketball's Almighty. I'm sorry, but while Rose is an excellent player who will be up there with Paul and Williams by next season, that's still a ways away from LeBron unstoppable. Rose is an athletic point guard; James is Tracy McGrady in Karl Malone's body with better court vision than this Chicago fella. Call me cynical, but this smells like a cop-out or panicky spin.↵
This post originally appeared on the Sporting Blog. For more, see The Sporting Blog Archives.