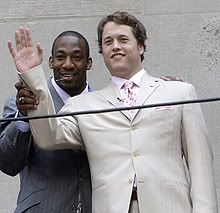 ↵A repeated sticker shock every April, the NFL's top draft picks end up among the highest paid players in the league. This would be understandable in the NBA or NHL, where prospects seem less risky than in the incredibly complex, system-dependent game of football. LeBron James and Kevin Durant deserved max money straight out of the gate, you know? Fellows like JaMarcus Russell, Matt Ryan and
now Matthew Stafford
-- who signed a $72 million deal (which includes a
league record
$41.7 million guaranteed) with Detroit late Friday -- come in as their team's highest paid players ... and utter mysteries on the field.
↵
↵Lions coach Jim Schwartz may have
seen every pass Stafford has thrown
the past two years, but he has no idea if Stafford will come in as the best QB on the roster from Day 1. (Well, this
is
Detroit, so perhaps we can assume he's better than Daunte Culpepper.) In a more normal draft -- like the NBA's -- you have some time to figure out how much talent and skill rests within the youngster. If the kid produces early, it's cheap labor. You'll pay big later, but for now it's cheap labor. I'm certainly not among the first 100 folks to point it this morning, but the NFL has completely upside-down!
↵
↵It should register as compeltely problematic that, unlike in the other three major sports, NFL teams don't really want the No. 1 pick. A dozen NBA teams are counting down the days until the draft lottery on May 19 -- there will be shrieks of agony if the top few teams fall away from the Griffin/Rubio zone. It's not that the backwards philosophy in football makes the draft any less intriguing -- it's just a dumb way to kick things off. If Stafford busts, the Lions are in
worse
position than they were last season. That's really unfortunate.↵
This post originally appeared on the Sporting Blog. For more, see The Sporting Blog Archives.