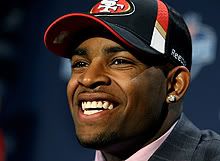 ↵Of all the personalities that should be piping hot over the proceedings of NFL Draft Saturday, you wouldn't think Texas Tech coach Mike Leach would top the list. But there's Leach, absolutely lighting up Browns coach Eric Mangini for an apparent whisper campaign in which Mangini spread the idea that Michael Crabtree is a diva after a short meeting with the player.
↵
↵Crabtree slipped to the Niners at No. 10. Leach slipped Mangini a few body blows when talking to the Bay Area media.
From Tim Kawakami of the San Jose Mercury News
: ↵
↵⇥"Crabtree as a receiver has been more successful than that guy has been as a coach. ... I think he took it upon himself to figure that in a few minutes he had all the expertise on the subject of Michael Crabtree that he needed. And so we'll see how those non-divas up there in Cleveland do this year." ↵
↵We
will
see. Unfortunately for Crabtree, Shaun Hill doesn't have the best arm in the business. Crabtree's blocking skills touted by Leach might come in handy too. Say, can Crabtree play safety? Can he call plays?↵
This post originally appeared on the Sporting Blog. For more, see The Sporting Blog Archives.