Welcome to Then & Now, where Shoals sums up the week in NBA hoops and tells you what to look for. Find it here every Sunday evening.
↵

↵
Iverson's Ignominious Exit:
Don't forget, officially AI was out with a mysterious back ailment, and it's now the reason he's done for 2008-09. But any way you look at it, the Answer's time in Detroit has been an unmitigated disaster. Instead of the Pistons getting that big star they've long craved, the upshot of his arrival is that Joe Dumars might be picking in the lottery. In fact, having just helped bring down one of the league's steadiest contenders, and not getting any younger, Iverson's stock might be an all-time low. ↵
↵
↵
Nuggets of Truth:
Speaking of Iverson's old team, the Nuggets are on seven-game win streak that's put them in second place in the West. That wouldn't usually mean much, seeing how tight the top of that conference is. But Denver's been a team reborn ever since Chauncey Billups showed up, and now they're hitting another gear. They're tough, they're deep, they defend, and they can put up points like crazy when necessary. By the time the regular 82 are over, we might be talking about the Nuggets being in the Lakers' league, or at least how we do Boston and Orlando in the East. ↵
↵
↵
Kings of the Midgets:
I once tried to prove that making the East playoffs as the eighth seed wasn't worth the loss of lottery standing. It doesn't actually work out that way, because of both television revenue and the way the ping-pong balls historically fall. And the East isn't exactly the baby conference anymore. But of the teams vying for the bottom two slots, only Charlotte feels legit. Detroit, as already discussed, is falling apart; Chicago could use a lottery pick; that Indiana's even in the picture shows what a non-honor this would be. ↵
↵
↵
FILM CRITIC
: ↵
↵
↵
↵ ↵
↵
↵There's less than a month to go, and the Bucks are out of contention for the playoffs. In other words . . . it's Ramon Sessions time. Last year, Sessions made a name for himself with a ridiculous last few weeks. He set a franchise mark with 24 assists in a single night, seen above. This season, the rascal Scott Skiles prevented him from becoming the star we all knew he had in him. Now, since the end of March, Sessions is averaging 18 points and 11 assists, proving once again why he should be getting 40 minutes a night. Maybe this time he'll hit 30 dimes. ↵
↵
↵
LOOKING AHEAD:
↵
↵--Not much well-considered math here, but unless I'm Los Angeles, I wouldn't want to meet the Jazz or a healthy New Orleans in the first round. The Jazz's Achilles' heel is their relatively poor (a little below .500) road record, but
the paint really matters in the playoffs
, and a stepped-up Deron Williams plus Carlos Boozer and/or Paul Millsap can do damage. And while the Hornets have had an up-and-down year, Chris Paul, Tyson Chandler and David West together
can challenge any nucleus in the league
. ↵
↵
↵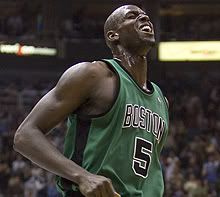 --So Kevin Garnett's supposed to be ready fo the playoffs. Rather, Doc Rivers will be "very, very surprised" if he's not. KG might come back before season's end; he's
just resting his knee and playing it cautious
. That might be fine if this was still the team looking to challenge the single-season win record. But considering how hard it was for them to get to the Finals last year—even if once there, they trampled the Lakers and got their rings—
Doc's reassurances ring hollow even if they're true
. ↵
↵
↵--With everyone counting on, and looking forward to, a Lakers/Cavs showdown, what's going to be the cult hit that comes out of nowhere to surprise us?
My vote's for Heat/Hawks
where MVP candidate and absolutely devastating force of basketball Dwyane Wade will attempt to carry his young team past the Hawks, who finally are coming into their own as a solid playoff team. But please, please, please, can we see the Josh Smith of old in this one?
Smith hasn't looked himself all season.
↵
This post originally appeared on the Sporting Blog. For more, see The Sporting Blog Archives.