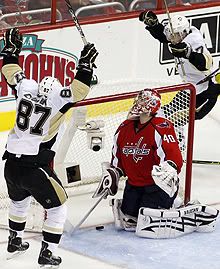 Over the course of a lifetime, every ice rink is going to see its share of ↵unlucky bounces. But when it comes to bad bounces at critical moments, the east ↵end of the ice at the Verizon Center in Washington, D.C., has seen more than its ↵fair share of late.
↵
↵A little less than a month ago, the arena hosted the ↵NCAA Frozen Four. The final featured perennial college hockey power Boston ↵University against Miami University. On that night, Miami held a two-goal lead ↵in the third period, only to see Boston Univeristy score twice into the net on ↵the east end in the final minute to force overtime. 
↵
↵And once Boston ↵University got to OT, an incredibly bad bounce off Miami defenseman ↵Kevin Roeder gave the Terriers the game-winning goal. What was so ↵heartbreaking about that goal was that Roeder did exactly what he was ↵supposed to do as he dropped to the ice to block a shot from Boston's Colby ↵Cohen.
↵
↵Saturday night in Washington, it happened again, in Game 5 of the Capitals-Penguins Stanley Cup playoff series. This time the ↵victim was Washington Capitals defenseman Tom Poti.
↵
↵
An Alex Ovechkin ↵goal late in the third period tied the game 3-3 and forced overtime. Having lost Games 3 and 4 in Pittsburgh, the Capitals were ↵desperate to regain their momentum. They didn't want to return to Pittsburgh for Game 6 down 3-2, especially after winning Games 1 and 2 at home.
↵
↵
↵ ↵
↵But at the tail end of a ↵power play in OT, Pittsburgh's Evgeni Malkin broke in over the Washington blue line ↵with only 39-year old Sergei Fedorov to beat. For Fedorov, it was an unfamiliar ↵spot: normally a center, head coach Bruce Boudreau was forced to shift Fedorov ↵to defense to replace the injured John Erskine.
↵
↵Taking ↵advantage of his incredible speed, Malkin was able to turn the corner on Fedorov ↵and break in on Washington goalie Simeon Varlamov.  Also heading straight toward ↵the net through the slot was Pittsburgh center Sidney Crosby. Malkin saw him and ↵pushed a pass off of his backhand that Crosby could easily tap into an open net ↵before Varlamov could shift to the opposite post.
↵
↵Which was where Poti ↵entered the picture. Positioned to cut off the pass, Poti dived to intercept ↵it. "Their guy is coming down the wall ... You know it's Malkin, so you can't ↵give him too much time and space and it became a two-on-one and I tried to go ↵down to take the pass away," he said.
↵
↵And while the puck did clip his ↵stick, it took the worst of bounces, and deflected through Varlamov's ↵five-hole to give Pittsburgh the win. 
↵
↵When asked after the game if he could ↵have done something differently, Poti said: "I don't know. It's tough because if ↵you give him [Malkin] too much space to come in, he's a guy who can make a play ↵and score the goal, so I don't think there's anything I'd do different again. It's just an unlucky bounce and there's nothing you can really do about ↵it."
↵
↵Something tells me that Miami's Kevin Roeder feels the same way.↵
This post originally appeared on the Sporting Blog. For more, see The Sporting Blog Archives.