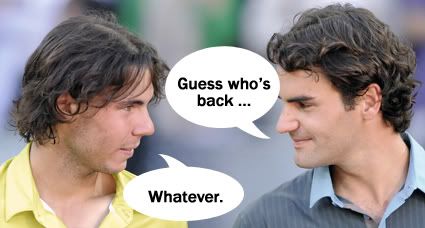 ↵
↵
↵Roger Federer hasn't had a terrific 2009. In fact, it's been rather bad. Coming into this week, he hadn't won a title all year and had lost five straight matches to Rafael Nadal, including the Australian Open final. Murmurs (
guilty
) of Federer's coming descent amplified.
↵
↵Today's result in the Madrid Open final will prove a silencer of sorts, as
Federer beat Nadal in the clay tournament
. Federer is the only top-10 player to beat Nadal on clay, but that came at Federer's peak two years ago. This is big heading into the French Open next week. Well, Federer thinks it's big. Nadal? Not so much. ↵
↵⇥"To me, this tournament has nothing to do with Paris. This tournament is practically another surface compared to Paris," said Nadal, who was troubled with the odd bounces and faster pace brought on by higher altitude. "The conditions favored him more than me." ↵
↵Champions don't make excuses, Rafy! But actually, Nadal does look much more dominant at Roland Garros specifically than even on other clay courts. But from a confidence standpoint, this win for Federer makes a potential showdown between the two in Paris much more intriguing. It'd have been hard to give Roger a chance from a fan perspective at Roland Garros had Nadal been the 6-4, 6-4 winner in Madrid.↵
This post originally appeared on the Sporting Blog. For more, see The Sporting Blog Archives.