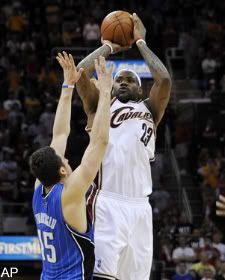 That was
one hell of a game last night
, wasn't it? If you haven't read
Shoals' recap, do so
.
↵
↵One element of the game that seems to have been pushed aside by
the miraculous-if-it's-anybody-but-Lebron buzzer beater
is the fact that for most of the game, Orlando had every right to howl about the officiating.
↵
↵Third Quarter Collapse
provides the rundown
:
↵
↵
↵⇥Mo Williams was not assessed a technical foul after deliberately ↵⇥throwing the ball at Dwight Howard during a dead-ball situation; Ben ↵⇥Wallace was not assessed a blocking foul after he stepped under an ↵⇥airborne Courtney Lee, negating a basket for Lee and actually drawing ↵⇥an offensive foul; LeBron James was not assessed a charging foul after ↵⇥he barreled into a set, outside-the-restricted-area Marcin Gortat, who ↵⇥in turn earned a technical for his protesting the call levied against ↵⇥him.
↵⇥ ↵
↵
↵Now sure, they're probably a bit biased, but it's clear the referees did the Magic a bit of a disservice. Nowhere was it more evident than Williams' fling, shown below, which is such an automatic, cut-and-dry technical that the NBA probably owes Orlando a formal apology.
↵
↵
↵
↵ ↵
↵
↵Of course, it's somewhere between reckless and disingenuous to say that if that T gets called, Lebron's heroic shot is for the tie instead of the win. That's not the way the game dynamics work, especially in the endgame scenario.
↵
↵But adding up the instances in which the Magic may have a legitimate gripe with a call and their cumulative effect on the game, there's a sense that at the very least, Orlando was fighting an uphill battle.
↵
↵And yet for all the poor officiating, the game still came down to the only thing fans can ask for: both teams with a chance to win by making shots. The avenue to which the game got there usually ends up being a forgotten detail.
↵
↵It's just a shame that this most epic of finishes is going to come with more next-day mea culpas from the league. Haven't these playoffs had enough of those already?↵
This post originally appeared on the Sporting Blog. For more, see The Sporting Blog Archives.