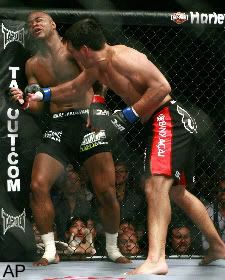 UFC 98 was last night, and the marquee match was Rashad Evans facing Lyoto Machida with the light heavyweight belt on the line. That picture to your right should tell you exactly how well that worked out for Evans.
↵
↵
Watching the video over at You Been Blinded
, it's easy to be lulled into a lapse of concentration with Machida. The first round was boring, and for three minutes, Machida took only marginal shots at attacking Evans.
↵
↵But as soon as Evans tried to go toe-to-toe, Machida unleashed a frightening array of strikes, battering Evans' head with a relentless intensity while Evans scrambled to get back to his feet.
↵
↵Machida would eventually provide respite, but only by way of a left hook that dropped Evans for good. It was a forceful, unmistakable finish to a beating that came almost 9 minutes into the match, but really only lasted about 20 seconds.
↵
↵And let's be clear: Rashad Evans is, in his own right, one scary man:
look what he did to Forrest Griffin
, for example. But he got too close to Machida, and a few seconds was all it took to become just another punching bag.↵
This post originally appeared on the Sporting Blog. For more, see The Sporting Blog Archives.