Time for everybody's favorite sports blog-based puzzle, "Guess, We Can!" Here, we'll feature blind items and other brain teasers. Get your puzzle hats on, kids!
↵
↵
QUESTION:
Which hard-charging golf icon is pictured below in pink pants?
↵
↵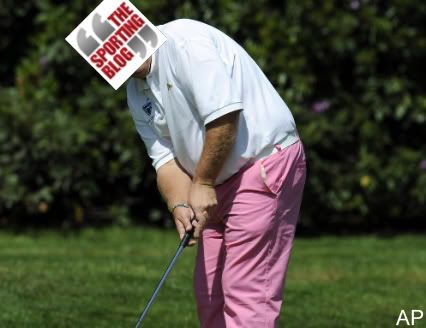 ↵
↵If you said Gary Player, god no, what the hell's wrong with you? The answer is a surprisingly svelte* John Daly,
sporting the pink trou in honor of Amy Mickelson
as she undergoes treatment for breast cancer.
↵
↵
↵
*or not, really; we can never tell if Daly's been gaining or losing weight. He's amorphous at this point.
↵
This post originally appeared on the Sporting Blog. For more, see The Sporting Blog Archives.