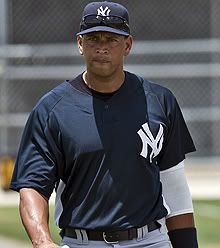 ↵Former
New York Times
columnist Selena Roberts, who broke the last Alex Rodriguez-steroid story of note for
Sports Illustrated
, has a book out now detailing how awful a person A-Rod has been. The allegations Rodriguez has been juicing since high school has drawn knowing nods and assertive rebuttals. But the charge that during his Ranger days A-Rod helped out friendly opponents by tipping pitches in lopsided games -- wow.
↵
↵
Kansas City Star
yeoman Joe Posnanski (via
CSTB
) works the deduction machine
to uncover how well Rodriguez buddies
Miguel Tejada and Bret Boone hit against the Rangers during the period in question. And since these buddy relationships work in two directions, Posnanski notes a long-held theory about A-Rod that hasn't been squelched in his Yankee years. ↵
↵⇥The thing about A-Rod is that he became known in Texas for being a master of the home run when the game was out of reach — local reporters there talked about that all the time. I never really put any stock in that sort of talk; that's precisely the sort of silly thing reporters say when they don't like a player. ↵
↵The columnist's work concludes that while the numbers of Tejada and Boone were suspiciously better against the Rangers, A-Rod didn't a) hit many more homers in blow-outs, or b) obviously benefit from any AL West
quid pro quo
. Nothing short of a public double-crossing by one of the supposed/alleged partners in baseball crime can prove any of this, but the stain of the allegation by a highly respected writer will do enough damage to count as a conviction. How long until A-Rod usurps Bonds on Most Hated lists?↵
This post originally appeared on the Sporting Blog. For more, see The Sporting Blog Archives.