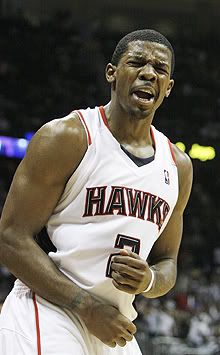 Like every other game in this series, the margin rests in double-digit range as the Hawks have leapt to
a 49-36 lead
at halftime of Game 7 against the Heat. Only one of the first six games have had a final margin of less than 15 points. But being a Game 7, this one has still had a bit more fire -- and it's not the sort of fire we'd expect when Dwyane Wade is involved.
↵
↵Wade has 14 points, but he's needed 17 shooting possessions to get them, and he has three turnovers to boot. Atlanta has (obviously) focused its defense on Flash, and the rest of the Heat roster has been even less efficient. Udonis Haslem has benefited from some good work on the offensive glass to score 10 points, but it's been otherwise barren with the rest of the roster totalling 12 points on 15 FGAs.
↵
↵The Hawks, meanwhile, aren't shooting out the lights as they have in previous victories. Joe Johnson's three threes betray the teamwide sub-40% FG shooting, but good work from J.J. and Mike Bibby in preventing turnovers have kept the Hawks efficient enough to run away. As the broadcasters often remind us, there have been no second-half lead changes in this series. High hopes fall short, I'm afraid.↵
This post originally appeared on the Sporting Blog. For more, see The Sporting Blog Archives.