Welcome to Then & Now, where Shoals sums up the week in NBA hoops and tells you what to look for. Find it here every Sunday evening.
↵
↵
↵

↵Lost and Found:
There was no way Game 7 of Bulls/Celtics could match Thursday's 3-OT thriller. But with a series that had excelled at strangeness and unpredictability, we were at least expecting, well, that. Instead, we got pretty much the matchup we would've expected before this wormhole of a series got going. The Bulls lacked cohesiveness but had enough talent to put up a fight; the Celtics were the defending world champs minus their best player, but with the entire team stepping up to fill the void. Except for the nagging sense that Quarter 4 was bound to end in a tie, it brought us all crashing back down to earth, back to reality. Back to the 2008-09 playoffs, where we sit around and wait for Kobe/Bron to begin.

↵
↵
When David Stern Cries, a Nation Sheds His Tears:
Speaking of which, a Hawks/Heat series that could've been a real treat ended up a total dud. It's as if it accidentally switched dietary supplements with Bulls/Celtics. More important, the Hawks' easy win this afternoon denied us the superficial pleasures of a Bron/Wade clash of the titans. For sure, these playoffs have made abundantly clear just how lousy (or young) most of the Heat still are, and there's a good chance it might have been a sweep. But who in their right mind doesn't enjoy watching James and Wade trade baskets down the stretch, even if it comes at the cost of the Cavs' newly-fluid offense, or the privilege of watching James Jones and Daequan Cook launch 3s? Certainly anyone with a finanical stake in the league has to be more than a little disappointed.

↵
↵
Playoff Injuries Are the Devil
: If they happen during the regular season, they can enhance the drama of a team's journey and lead to some intriguing personnel changes. If they happen in the middle of the postseason, though, we all lose. Who really feels as though anything was gained in their viewing experience by having Chris Paul, Ben Gordon, Rajon Rondo, Al Horford, and Leon Powe deal with various maladies? All the air is sucked out of the series, morale goes in the toilet and, as a fan, you get the feeling you've been cheated. OK, so sometimes you get heroic performances as if nothing's wrong (Chris Paul in Game 3), or theatrical posturing, which is somehow more notable (the mere mention of Willis Reed). Basketball-wise, though, it's like missing pages or redacted government reports. So much fun.
↵
↵
FILM CRITIC:
↵
↵ ↵
↵
↵Derrick Rose began this series hyped as the next . . . well, pretty much anyone who will one day live in Springfield. Other than that, Rose looked like an extremely gifted young player with all the tools to be an elite point guard by next season. Which is a polite way of saying he disappeared for long stretches, and he didn't exactly serve as the guide or focal point of the Bulls' offense (if there was one). However, if you want to know why this is only the beginning for Rose, whose team still has some house-cleaning and stock-taking to do, behold this play. I know, you saw it already. But in a season in which Wade is being lauded for his small-man block totals, just try to wrap your head around a PG who can do the same things.
↵
↵
LOOKING AHEAD:
↵
↵* The Bulls weren't ready to make noise in the playoffs, and
Orlando/Boston is actually a pretty juicy rivalry
. Maybe Boston's not whole, but the Magic experienced their fair share of setbacks against the Sixers. Hopefully, this will be an opportunity for both teams to remember who they are (as they seemed to in the final games of their respective series), and start looking a little bit like contenders again. Here's where both teams splash some water on their faces, look across the court and
get ready for what should be one of the most intense matchups in the entire playoffs
. What's funny is that the Rondo/Perkins/Davis-dependent Celtics are now the young team—on the rise? already?—and the Magic the vets.
↵
↵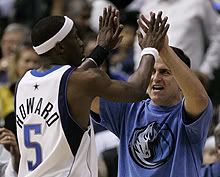 * "X-factor" may be one of the emptiest cliches in all of sports, but somehow it's not only appropriate for Josh Howard—it practically has become his nickname. Like if your friend earned the sobriquet "Wingman." In Howard's case, though, the concept is taken to an entirely different level.
The Mavs swingman can either be the team's best player or fade into the background
; light up the scoreboard in the first quarter and then barely assert himself; hustle like crazy or get accused of being a lousy malcontent. He has been troubled by ankle issues all season, and it has become painfully clear that, while Howard may be mercurial,
he also is the difference between the Mavs being solid and potentially very good
. For Dallas to make a series of this after today's steamrolling, Howard needs to stay healthy and for once play the same way for several days in a row.
↵
↵* With Rockets/Lakers about to start, the assumption is that Yao Ming's presence will require more of Andrew Bynum's services. Then again, Yao matches up best against other legit big men. Phil Jackson might realize that sticking with his smaller lineup is the easiest way to disrupt both the Rockets' feeding of Yao and the center's play down low. That's a nice thought, but does anyone think Pau Gasol or Lamar Odom is the man for that job? Bynum might end up playing big minutes not because one center demands another (anymore), but because
he really is the only decent chance the Lakers have to put any pressure on Yao
. It's a good thing the Rockets' offense is inconsistent, because Houston has the muscle to tussle with the Lakers much as the Celtics did in the Finals. Maybe Bynum's the big story, but the real question is
whether the rest of the Lakers learned anything from last summer
.↵
This post originally appeared on the Sporting Blog. For more, see The Sporting Blog Archives.