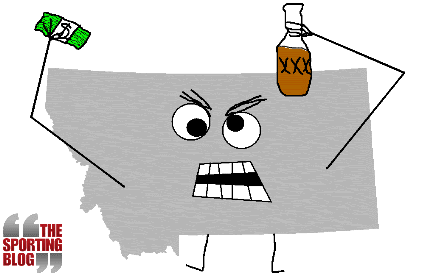 ↵
↵
Sure, putting the bottle in Montana's hands may seem unduly unfair to the state, but as anyone who has done both can attest, alcohol rather
enhances
the gambling experience.
↵
↵Scene: a Delaware courtroom. No, don't leave already, it gets more interesting than that. The NCAA, furious that the state of Delaware is considering legalizing sports betting, has threatened to ban all playoff games in the state. This is reasonable by NCAA standards.
↵
↵Delaware politely points out that
Montana
has limited forms of sports gambling, and
they
got to host a playoff game last year.
Time to cue up yet another reasonable response
: ↵
↵⇥

↵⇥An NCAA spokeswoman recently said the University of Montana should ↵⇥not have hosted playoff games last season because the state has a form ↵⇥of legalized sports gambling. ↵⇥

↵⇥

↵⇥"We did have an administrative ↵⇥oversight previously, but that was an error on our side and it's not ↵⇥going to happen again," NCAA spokeswoman Stacey Osburn said last week. ↵⇥"We've taken steps to make sure it doesn't happen again." ↵⇥

↵
↵Naturally, this raises the question of whether any of this betting can possibly affect a college playoff game. Silly rabbit. ↵
↵⇥Montana's law allows people to win money in fantasy leagues, but not ↵⇥from the outcome of actual games. The state also has a pari-mutuel ↵⇥fantasy football game, administered by the Montana Lottery, with some ↵⇥proceeds going to the Montana Board of Horse Racing. ↵
↵Right, then. The NCAA sees a state with an unlicensed fantasy football lottery game and decides no college playoff games can take place there. Makes sense.
↵
↵There's a scene in
Rushmore
where Jason Schwartzmann's character is being scolded by the object of his affection, a teacher who probably can't legally date him. She tells him, in reference to Bill Murray's character, "You know, you and Herman deserve each other. You're both little children."That sentiment aptly suits the NCAA and professional gamblers, making life difficult for college athletes one day at a time.↵
This post originally appeared on the Sporting Blog. For more, see The Sporting Blog Archives.