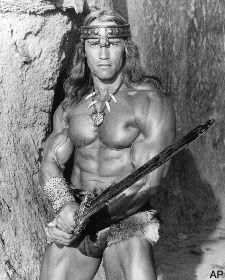 In the wake of the truly epic financial collapse in California, budget cutbacks may have to reach $24 thousand million (yes, that's the same as $24 billion, but anything past a million just reads like a statistic). Since community colleges and junior colleges are on California's dime, Schwarzenegger proposed some cutbacks on those fronts, including reimbursing physical education classes at non-credit rates. And
hoooo boy here comes the outrage
: ↵
↵⇥"I couldn't believe it, with his background and his history," said ↵⇥David Evans, a dean and athletic director at San Diego Mesa College. "I ↵⇥feel a little bit betrayed on this issue." ↵
↵Dean/AD guy from somewhere else,
you feel like chiming in
? ↵
↵⇥"I think our biggest issue is not that some classes might be labeled ↵⇥noncredit, but why pick on one program?" asked James Forkum, dean and ↵⇥athletic director at Santa Rosa Junior College and current vice-chair ↵⇥of the CCCAA's Management Council. "That's why we think the wisdom ↵⇥isn't there. ... What's the difference between someone taking a dance ↵⇥class or a beginning culinary class from someone taking a PE class?" ↵
↵
↵Okay, there's some more logic in the second go round, but the point both are missing (maybe intentionally so, in the interest of protecting their jobs) is that it would be more aberrant for Schwarzenegger to insist on not cutting any funding in that area. Sure, he's a former steroids fitness model, but that doesn't make him automatically beholden to that interest, especially in higher education. If he's removing it from elementary schools, yeah, throw some stones, but we're not at that point (yet).
↵
↵The budget's not set in stone yet, so whether this proposal actually makes it into the final spending bill, well, we'll see. At the very least, we have administrators reacting to the idea in the most reasoned fashion possible:
↵
↵⇥"It is very dangerous ground when a legislator gets into particular ↵⇥curriculum and says this course is worth less," Johnson said. "Those ↵⇥are issues of the college, not of the Legislature." ↵
↵So close to a Godwin. So close.
↵
↵
*First of all, is "barbarianize" a word? I feel like it is. Webster's says no, but they're always wrong about things. Second of all, rejected Schwarzenegger-movie-related headline jokes include ...Terminates Athletic Budgets, ...Terminates 2 Athletic Budgets, ...Terminates Athletic Budgets' Salvations, ...Commandos Athletic Budgets, and ...Jingles Athletic Budgets All The Way. Actually, I like that last one a lot better. Damn it.
↵
This post originally appeared on the Sporting Blog. For more, see The Sporting Blog Archives.