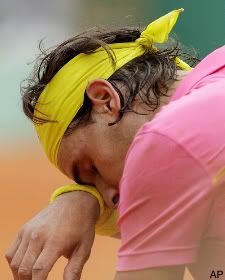 In an upset that's some parts shocking, some parts almost disturbing,
Rafael Nadal was just ousted from the French Open for the first time
. Yes, ever.
↵
↵The culprit wasn't Roger Federer or, well, anyone else you've ever heard of; no, Nadal was taken down by the 23rd-seeded player, Robin Soderling. Stranger yet, the defeat took only four sets; Soderling just walloped the Galloping Spaniard or whatever Nadal's nickname is.
↵
↵This means almost guaranteed success for Roger Federer, who also lucked out yesterday when Novak Djokovic was eliminated. Should Federer take the French Open, again, as he should, the chorus will likely be something along the lines of "He's Back!" or "Better Than Ever!" What they ought to say should be "Roger Federer: still good at beating guys ranked outside the top 10!"
↵
↵I mean, titles are titles, of course, but there's a difference between being the best player on clay and being the best player on clay left.↵
This post originally appeared on the Sporting Blog. For more, see The Sporting Blog Archives.