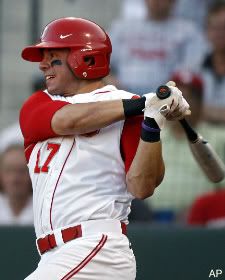 The Big Ten, quite obviously, is not known as a "baseball" conference. While its constituents sit inside as snow falls 4 months a year every winter, schools south of the Mason-Dixon line enjoy temperate weather and the ability to play nearly (if not completely) year-round. But the Big Ten, y'know,
tries
, and for that they should be taken seriously. Kinda.
↵
↵With that, the conference sent three teams to the 64-team, double-elimination regionals, a precursor to the famed College World Series.
Indiana bowed out quickly with two quick losses
, while Minnesota rebounded from one early loss to
face powerhouse LSU tomorrow night
with a Superregional berth on the line. LSU hasn't lost yet, so it's either two straight wins against the 3rd-seeded Tigers or go home. No pressure.
↵
↵Then there's Ohio State. The Buckeyes were
dismembered in their first game against Georgia, 24-8
, by far the largest amount of runs given up in the Regionals so far this year. To their credit, they
rallied back for two big wins in their region
and find themselves in a similar position as Minnesota, needing two wins against the host team to advance. That game's going on right now, and... oh no.
↵
↵The score was 20-0. No, not as a final;
in the top of the third inning.
But then OSU mounted a furious comeback as the bullpen came alive and ahahahahaha just kidding, they got ANNIHILATED.
The final score was 37-6
, and no, that's not a typo. Instead, it's history made:
↵
↵Florida State (45-16) set NCAA postseason records with 37 runs, 38 hits ↵and 66 total bases, while Cardullo set the school mark for hits in an ↵offensive performance the football team would've been proud of. ↵
↵
↵So that's not a good way to close out the season. But hey...
free Sno-cones
after the game.↵
This post originally appeared on the Sporting Blog. For more, see The Sporting Blog Archives.