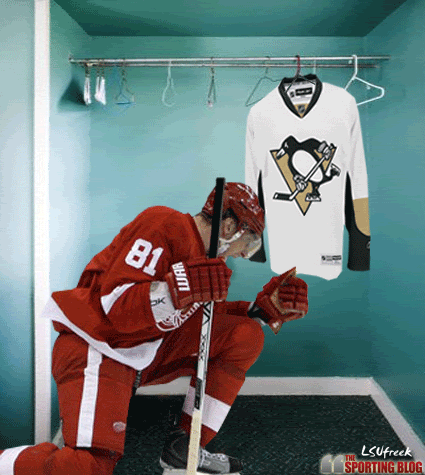 ↵
↵Oh, Marian Hossa. Oh, dear. Oh, my.
↵
↵Hossa's decision to leave Pittsburgh for Detroit before the season in pursuit of the Stanley Cup seems spectacularly unwise now, as he had to watch his old teammates celebrate with the Stanley Cup as
his Red Wings sat, dejected, having been shut down in a deciding 2-1 loss
. We don't know what was going through his mind, but it was probably completely unprintable.
↵
↵The temptation is overpowering to ascribe larger aspects of the human condition to Hossa's season, and why not? It's a classic tale of the downfall of a man swept up in fleeting glory and avarice, isn't it?
↵
↵Well, not exactly.
For one, Hossa didn't necessarily move to Detroit for the
money
; his salary was scarcely higher ($7.4 million, now an unrestricted free agent) than it was in Pittsburgh in '07-'08 ($7 million). And for wanting to win the Stanley Cup? Seriously, you don't think that's every single hockey player's ultimate, defining goal?
↵
↵No, what's most interesting about Hossa's decision to flee Pittsburgh for Detroit is that his stated reasoning, that he was more likely to win a Cup with the Red Wings than with the Penguins, was absolutely correct every single day... up until last night. Even if he'd known the decision would come down to a Game 7 at the Joe (and if he'd known that, we'd have a problem: either an actual psychic would be advising him or the NHL is very very rigged, and I don't know which is scarier), well, wouldn't he have to side with Detroit even then?
↵
↵Heck, even looking toward next year, if he wants to win the 2010 Cup... would it not
still
be Detroit? This would necessarily exclude the Penguins, of course, since the most requested vanity plate in the area over the last 12 months was "FUHOSSA"* and all.
And the Penguins themselves? Hardly softer
: ↵
↵⇥Penguins forward Pascal Dupuis was asked if there was any sympathy for Hossa. Even a little. ↵⇥

↵⇥"Not at all," Dupuis said. "Sorry, but not at all." ↵⇥

↵
↵To Hossa's credit,
he says he has "no regrets."
That's an out-and-out lie, obviously, but he has to say that for his teammates' sake. That said, though we can hardly begrudge his desire to hoist the Cup, he really doesn't have much to regret. His dream for the title came down to Detroit defending home ice in Game 7, something 10 of 12 teams had done previously.
↵
↵It's just now 10 of 13, is all, and Hossa gets to spend one more offseason deliberating whether or not to sell his teammates short in pursuit of the Stanley Cup. No pressure or anything.
↵
↵
↵
*I made that up, but it's probably way up there.
↵
This post originally appeared on the Sporting Blog. For more, see The Sporting Blog Archives.