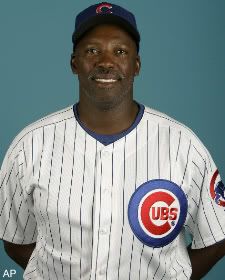 Today, we say goodbye to Gerald Perry, the Cubs' sacrificial lamb hitting coach; he was just
fired by Cubs management today
. It's no wonder; the Cubs are in fourth place in the NL Central, on a four-game losing streak, and worst of all, below .500 on the season.
↵
↵But, uh,
look at the Cubs' starting lineup
. There isn't a whole lot of aberrant production here. Sure, Soriano's .233 average (and worse, .300 OBP) and Geovany Soto's horrific struggle to stay above the Mendoza line are big problems. We can all agree on that.
↵
↵But then there's also Reed Johnson, sticking around the .270 mark and with decent production for his limited at-bats. The rookies, Micah Hoffpauir, Jake Fox, and Bobby Scales haven't been terrible. Yes, Scales was just demoted, but that was to make room for Rich Harden; Scales' OPS was .799, which is hardly anything to complain about for a rookie in spot duty.
↵
↵No, it seems the real issue here, one that
might not
be solved by a hitting coach, is that the Cubs' batting order doesn't have very many high-level players in it to begin with. Soriano's struggling, yes, but he's also on pace to get into the 35-40 HR range, and that's at current production; his production should most certainly increase when the wind starts blowing out at Wrigley and his batting average returns to its usual ~.280 area.
↵
↵But he and the injured Aramis Ramirez are really all the Cubs have got. Derrek Lee is clearly on the downslope of his career, Kosuke Fukudome is spectacularly unspectacular, Milton Bradley has no business being in the National League, and the rest are merely bit parts and role players. Any variations in how often they're put at the plate and in what order are insignificant.
↵
↵So yes, considering the fact that nobody on the roster is even on pace for 80 RBI (your leaders, through 59 games, are Soriano and Lee with 27), it looks like there's some serious underperformance going on for a high-profile team. But isn't the
real
story not that the hitting coach got fired, but the fact that the Cubs' hitters just aren't very good anymore?↵
This post originally appeared on the Sporting Blog. For more, see The Sporting Blog Archives.