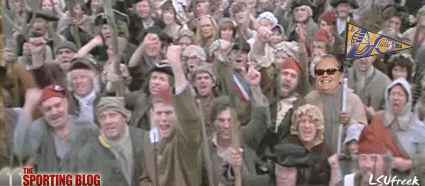 ↵
↵The state of California is in a catastrophic amount of debt right now. Tens of billions of dollars. That's, y'know, 11 digits (and you're worried about that $600 on your Sears Card). So unnecessary expenditures don't really figure to be on Los Angeles' municipal agenda, right?
↵
↵Oh, but this is the Lakers we're talking about here. The most famous, image-driven franchise in the history of the NBA can't win another title and
not
have a parade, right?
These things just aren't done!
↵
↵⇥"We can't afford to cover the costs," said councilwoman Jan Perry, whose ↵⇥district includes Staples Center. "How could we make a decision about ↵⇥people's jobs and then sponsor the parade?" She suggested that the NBA ↵⇥or the Lakers should pay for any parade. ↵⇥
↵⇥
↵⇥Councilman Bernard C. Parks, who chairs the city council's Budget ↵⇥and Finance Committee, said he doesn't think the city has a choice ↵⇥about sponsoring the parade, saying, "This is one of those things that ↵⇥happen once a decade." ↵⇥
↵⇥
↵⇥"There's going to be a major celebration in the city, and the ↵⇥likelihood is the city is going to absorb the bulk of those costs," ↵⇥Parks said. ↵
↵While the idea of having the team or the NBA sponsor the event sounds nice, we're not sure the NBA would want to spend the money to do it (the Lakers might). After all, this is an event by and for the city of Los Angeles; putting it in the hands of large corporate entities is an open invitation to naked oversaturation of advertisements. It happens.
↵
↵At the same time, Perry's point is more than valid; how can the city of Los Angeles justify spending money on
a freaking parade
while they deliberate which municipal employees they're going to lay off? "Sorry, Bob, we know Child Services could really use those four case workers of yours, but Ariza's just been so clutch, y'know?"
↵
↵So it comes down to the Lakers. The team stands to make even unholier sums of money than usual, which is saying a lot, from their impending championship. The estimated $1.1 million for a parade is just a drop in the bucket of owner Jerry Buss' annual payroll budget. The team doesn't need to subsidize the city's operation or anything; it would just help if they could pick this thing up for their home city.↵
This post originally appeared on the Sporting Blog. For more, see The Sporting Blog Archives.