Pete Carroll wins forever, because that's his vow and that's his singular life focus. Pac-10? It's his playground. Kanye?
Love the Kanye
. And white pants?
Nobody rocks 'em better
.
↵
↵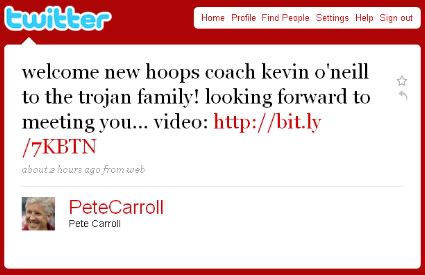 ↵
↵His latest victory comes via Twitter, where he broke the news of
Kevin O'Neill taking the reins of the USC basketball program
.
↵
↵Carroll tweeted--hang on, hang on. I'm sorry to derail the train here, but do you suppose the reason some older people don't get on board with the newest technology is the ridiculous nomenclature? Telegraph, telephone, and television all have proper etymology, and strictly by the etymology of the word, you can tell what they're talking about. "Blog" and "Twitter/tweet" make no sense to an unfamiliar listener. They sound like made-up words. To someone who didn't grow up online, it's probably really hard to take the web seriously when it sounds like young people are reverting to alien or baby talk when they discuss it. To older ears, it sounds like we're saying, "What, you're not on Snerf? The future is in snerfing a glooborx! Get with it!"
↵
↵But we digress.
↵
↵
A full half hour before ESPN mentioned anything about the hire, Pete Carroll welcomed O'Neill aboard, as evidenced by the screencap shown above. That means he "broke" the news, although we're pretty sure other media outlets didn't learn the O'Neill news
from
him. Twitter's not that influential.
↵
↵Anyway, people may remember O'Neill as the ludicrously un-basketball-looking coach of Northwestern from about 10 years ago, then the journeyman NBA assistant, then the interim head coach of Arizona after Lute Olson's really weird departure. Despite looking more like an accountant than an assistant...
↵
↵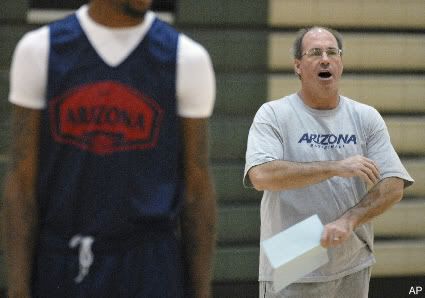 ↵
↵...O'Neill is a basketball man through and through. It's fair to wonder if he's got any recruiting chops whatsoever, but above all else, he's a
safe, professional
choice to take over a program desperately in need of some institutional control.
↵
↵And above all else, if you believe in the "hair gel/shady" corollary, hey, hard to do much better than O'Neill, right?
↵
This post originally appeared on the Sporting Blog. For more, see The Sporting Blog Archives.