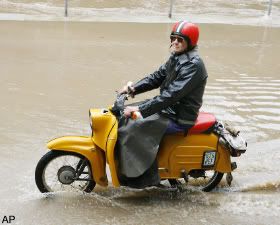 Oh, Iowa. The program that's becoming famous for all the wrong reasons, namely alcohol-fueled misdemeanors, is at it again. This time, the alleged offender is starting right tackle Kyle Calloway, a junior. Calloway was arrested for an OWI in Iowa City Friday night, and
good lord, are the details embarrassing
: ↵
↵⇥While driving his moped, Calloway was stopped at a previous accident scene near the intersection of  Morman Trek and Benton. The scene was cordoned off by traffic cones and unmarked police cars.
↵⇥
↵⇥According to the police report, Calloway, a 6-foot-7, 320-pound senior, drove between the cones and tried to drive through the accident scene.
↵⇥
↵⇥Officers stopped him. He was given a breathalyzer, which showed a .106 blood-alcohol level, and field sobriety test. The legal limit in Iowa is .08. ↵
↵We didn't think it warranted mention, but sure enough: Accident scenes are not--we repeat, not--obstacle courses for adventurous moped drivers to navigate. And there is a substantial difference between police officiers and enthusiastic moped obstacle course judges.
↵
↵As for Iowa football, they'll probably be without one of their bookends for most of the non-conference schedule. Calloway's clean record and low (as DUIs go) BAC will probably keep his suspension to 2 or 3 games, as long as there's no more shenanigans during his time away from the program.↵
This post originally appeared on the Sporting Blog. For more, see The Sporting Blog Archives.