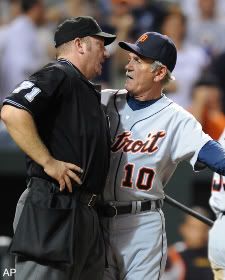 Of all the adjectives to describe someone who's famous for yelling at people 40 years his junior, smoking enough cigarettes to crap out a fully developed tobacco plant on demand, and littering his press conferences with profanities, you wouldn't think "lovable" is one of them. And yet, we love Jim Leyland. How can you not? If he's even capable of dying, his epitaph will just read "TOOK NO GUFF." He's like Clint Eastwood in Gran Torino, except instead of Hmong gang members, he's threatening to kill ineffective right-handed relievers. There's no telling how many times he pulled a gun on Jason Grilli before Grilli fled for Colorado.
↵
↵So we're happy to report that the Detroit Tigers, happy to have Mr. Ty Cobb Without The Racism at the helm,
have extended Leyland's contract through the 2011 season
: ↵
↵⇥On Friday, Leyland was stretched on a couch that folds out into a ↵⇥bed in his office at Comerica Park, smoking a cigarette and having a ↵⇥cup of coffee, when he got the good news. ↵⇥
↵⇥
↵⇥"I was totally shocked," he said. ↵
↵We're shocked too; not that his contract was extended, but that he has a fold-out couch in his office. We always figured he had a Murphy Bed. ↵
↵
↵So the city of Detroit has its gruff little mascot for another couple years, and
his music career is still going to be on hold
. All of thiis seems and feels "right," and even if his motivational techniques include holding Brandon Inge's mother at knifepoint in the clubhouse, well, so much the better, because maybe if Inge would get a clutch hit in the 8th once in a while, his mother would be just fine, now wouldn't she?
↵
↵Never leave, Leyland. Instead of a contract extension every couple of years, can't the Tigers just extend it until "whenever the Marlboro Reds finally win"? Or wait, he wouldn't smoke Marlboro. It's got to be Lucky Strike.↵
This post originally appeared on the Sporting Blog. For more, see The Sporting Blog Archives.