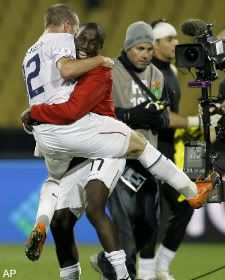 Team USA was, for all intents and purposes, on its way out of South Africa's Confederations Cup as of three hours ago. It had basically slept through matches with Brazil and Italy, sporting an 0-2 record and a 6-1 goal differential. Italy and Egypt, meanwhile, were both at 1-1 with differentials of 3-2 and 4-4, respectively. It would have taken a miracle for the U.S. to advance.
↵
↵Something like, say ... the United States beating Egypt 3-0 and Brazil beating Italy by the same score.
↵
↵And lo, the Azzurri did fall to Brazil by that exact margin; in a concurrent match, the
USMNT took it to Egypt
, scoring the semifinals-clinching goal on a Clint Dempsey header in the 71st minute.
↵
↵There still were flaws in the Americans' game: Egypt put shots on goal with the same relative ease that Italy did in the previous match, for example. And it's fair to wonder just where Jozy Altidore's head is at times. But to their credit, they accomplished what they needed to do to be in position to advance; incredibly, the Brazilians did the rest.
↵
↵So now it's onto the semis against mighty Spain. which rolled through Group A without allowing a single goal. It would not be presumptuous to think Spain will beat the USMNT. They'd win even if the referees allowed the Americans to have guns.↵
This post originally appeared on the Sporting Blog. For more, see The Sporting Blog Archives.