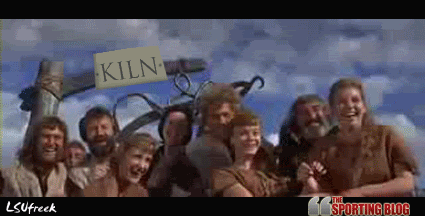 ↵
↵I'm just waiting for
Drew
to die of rage now that Brett Favre is a Viking,
or at least a Viking in Mike Florioland
. (Florioland: the mysterious, rumor-filled country all NFL facts pass through before everyone admits they're true in public.)
↵
↵Presumably Brett is dancing across the oars of the Viking boat he's built for his own entertainment on his land in Kiln, calling the villagers to clap as he dances and swings around the set while flexing his reconstructed bicep. Favre probably already is a Viking, because this would make so much sense according to the thre rules of running a franchise badly:
↵
↵1. Go after expired goods like a crocodile chasing a speedboat full of slow, fat children.
↵
↵2. Never develop talent of your own, because that takes work. And
work
is
hard
. (Ask Matt Millen. Oh, wait: don't.)
↵
↵3. Make the personnel move most certain to get your coach fired.
↵
↵Signing Favre satsifies all three, and thus makes this a "slam-dunk" move that will most certainly "end in flames and tears." On the upside, this certainly will lift the spirits of
our military's secret Favre brigade
, and ensure another season of America's true team, the gaggle of t-shirt wearing good-ole boys and flunkies who play touch football with Favre in all those Wrangler jeans ads. If Favre were to retire, they would be out of jobs, and in this economy keeping them employed is a matter of national security. Wrangler jeans: they feel great, especially when you've just thrown inexplicable interceptions in a crucial late-season matchup on the road.↵
This post originally appeared on the Sporting Blog. For more, see The Sporting Blog Archives.