We have some disturbing news. Those of you who thought you watched a thrilling, clean, honest match between the USA and Brazil for the Confederations Cup, in fact, didn't. ↵
↵
↵
↵
↵As a matter of fact, as our research will show, this game was entirely scripted, its outcome determined at least hours in advance. Were it not for one soccer blog's sloppy editorial standards (and our eagle's eyes!), nobody would have discovered the charade. ↵
↵
↵
↵
↵
↵We like Google Reader for one simple reason: when something goes into an RSS feed, it doesn't go away, even if the corresponding link disappears. That's great for, say, uncovering proof of deleted messages on Twitter. More importantly (in this instance), it timestamps the entries as they hit the RSS feed. That way, if a rogue webmaster edits the post and its timestamp, the real publication time is preserved. ↵
↵
↵
↵
↵
↵Why is all that important? Because as we perused one of our favorite soccer blogs, 101 Great Goals, we found something that changed everything we thought we knew about soccer and the Confederations Cup: ↵
↵
↵
↵
↵
↵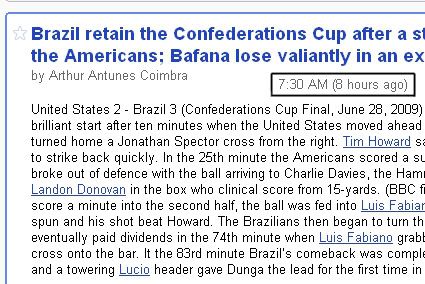 Click the picture for a full-size, unretouched version. And if you doubt its veracity, get a Google Reader account and subscribe the feed for yourself. You'll see.
↵
↵
↵
↵
↵
↵7;30 a.m.?! Diabolical! Even though Brazil's victory had ended just minutes prior to the screencap, this clearly shows that an article containing precise and correct details about the match went up early this morning. ↵
↵
↵
↵
↵
↵But the real question is, why? Why would FIFA fix its own events? Unless Sepp Blatter is really Vince McMahon in disguise! My god, the surprises never stop! So is this a sign that the Colon brothers will beat Legacy in the WWE event tonight? No, the Colons are Puerto Rican, not Brazilian. Whew. ↵
↵
↵
↵
↵
↵So how deep does this conspiracy go? Why, we're not afraid to come right out and say it: Barack Obama. You see, if... ↵
↵
↵
↵
↵
↵...wait, we're being told there's a perfectly normal reason why this discrepancy appears and it proves nothing. Damn it all. ↵
↵
This post originally appeared on the Sporting Blog. For more, see The Sporting Blog Archives.