The Branded Kobe Bryant Determination Face seems a bit like everything else Kobe does to me: scripted, overly self-conscious, and permissable because he plays basketball like a unstoppable hellwraith. He made it a few times last night, and each tie he did little bells of recognition went off in my head. Where had I seen that before? Shrimp? Why am I thinking of shrimp? Movie?
↵
↵Fortunately, someone else pulled the name I was looking for: Kobe's business face
looks a lot like Bubba from
Forrest Gump.
Now that we let Freek loose on it for an hour or so, I'm thinking Kobe needs to go bowtie for formal occasions. It's a flattering look on him.
↵
↵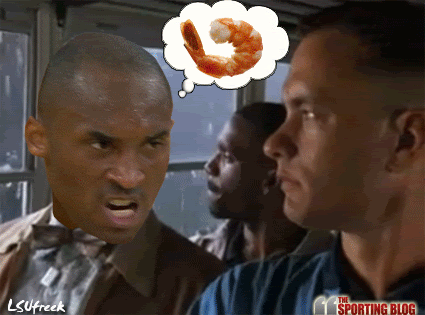 ↵
↵Over at the Baseline, Shoals says Kobe and the rest of the Lakers
were anything but gump-ish
(See:
The Wire usage of the word,
not Forrest with a capital G) in defending the Magic, while Devaney says
last year's Finals debacle is still burning the Lakers into a redoubled 2009 title push
.
↵
This post originally appeared on the Sporting Blog. For more, see The Sporting Blog Archives.