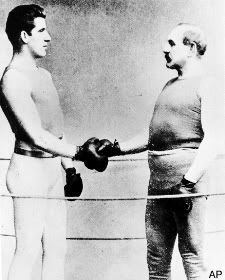 One of the most insipid aspects of LeBron James' post-Game 6 refusal to acknowledge anyone or anything has been the long-term media reaction to it.
↵
↵Maybe it's the fact that LeBron didn't issue an apology immediately afterward, or that it's a storyline with a comically small research/bloviation ratio, or maybe it's simply a retaliation for blowing off the press conference. Whatever. The root cause is almost incidental; the net effect is tedious.
↵
↵Witness this question, which wasn't so much a lobbed softball as a batting tee with a beach ball set atop it. Oh, and the centerfield fence two feet from home plate.
Tiger Woods, do you believe in sportsmanship
? ↵
↵⇥

↵⇥Woods was asked earlier this week whether athletes should shake hands after a competition. Cleveland Cavaliers star LeBron James was criticized when he did not shake hands with Orlando Magic players after losing in Game 7 [sic] of the NBA's Eastern Conference Finals. ↵⇥

↵⇥Woods, who attended some of the games in his hometown of Orlando, is a huge sports fan. He tried to put the controversy in historical perspective. ↵⇥

↵⇥"Well, if you look at it, not everyone shakes hands after every game," he said. "Football, a lot of guys just walk off the field. A lot of sports, they walk off the court or field. Hockey, they line up. It's tradition. And it's part of our sport, the tradition of taking the hat off and shaking hands. ↵⇥

↵
↵To his credit, Woods gave a typically diplomatic, reasoned response to the question and did a good job of framing the question in a larger context. He's not the problem.
↵
↵Oh, and so we're clear, this isn't a "You asked Tiger Woods? Now you've
gone too far!
" post. Woods isn't the point, he's an example.
↵
↵The point is this: hammering a 24-year-old kid for an overemotional decision is either hypocritical or hypercritical. By that, I mean the type of person who was over that by their 24th birthday is also the type of person who wouldn't feel the need to go on an ink-filled jeremiad in the wake of the Cavs' collapse.
↵
↵If it becomes a pattern, yes, it's worth revisiting, maybe even for more than 15 minutes. Until then, sportswriters of America, please: spare us the grandstanding.↵
This post originally appeared on the Sporting Blog. For more, see The Sporting Blog Archives.