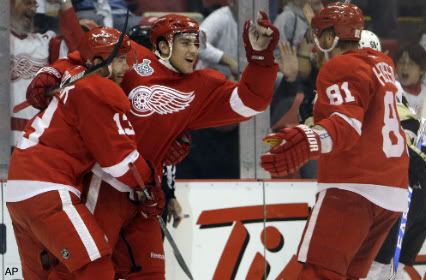 ↵
The Red Wings always win. This should be obvious to even the most casual hockey observer at this point. No, we don't mean they win every game; that would be unprecedented. But just like one year ago and ten other seasons before that, Detroit will win a Stanley Cup.
↵
↵Such certainty is warranted after
last night's 5-0 demolition of the Pittsburgh Penguins
, a score that actually might not reflect the extent to which Detroit outplayed the Pens. Where do you start? The smothering defense that bottled up Sidney Crosby all night long? The 4-goal second period that ended up chasing wunderkind Marc-Andre Fleury? The sheer ambient energy coursing through Joe Louis Arena?
↵
↵This is not to say that Pittsburgh can't win Game 6, of course. They might. They've got more to play for, and Mellon Arena is fine home ice in its own right. There's just no way the Penguins win at the Joe. No way.
↵
↵Oh, and all this before mentioning Pavel Datsyuk. Y'know,
him
.
Datsyuk is back and looked good
--not great, but he didn't need to be--in his return. It seems lazy to just talk in unquantifiables about his play, so we'll mention the two assists he racked up in his return, but there was a palpable sense of... well, calm's not the right word, so we'll say as-calm-as-one-can-be-while-dominating-in-high-level-athletics. Perhaps it just comes back to confidence. Perhaps.
↵
↵Detroit will want to build off this game, one of their best of the playoffs (and, not coincidentally, one of Pittsburgh's worst); they'll just have to do so with the score back at 0-0 when the puck drops on Tuesday.↵
This post originally appeared on the Sporting Blog. For more, see The Sporting Blog Archives.