Barcelonians, rejoice! One of our ardent, hard-working fans has spread the gospel of our great and glorious soccer team on a most grand stage!
↵
↵
↵
↵Most would be satisfied with winning the UEFA Champions League last week, but the great strive for new heights! Our brave, heroic brother in arms
leapt onto the court at the French Open final
and attempted to convert Roger Federer, nemesis of our fellow Spaniard Rafael Nadal, to the cause of Barca! Why, so thrilled was Federer that
he won this final match with ease
. He is truly a champion through FC Barcelona, champions ourselves!
↵
↵Strive for excellence!
↵
↵The media, under the moneyed iron fist of Manchester United and other dictatorships, will paint our brother as a fool! They will not report the crowd's thunderous applause and the spontaneous, impassioned chants of "Barca! Barca!" You must ignore these pig dogs and recognize the truth! This man is our hero; he is a legend worthy of emulation.
↵
↵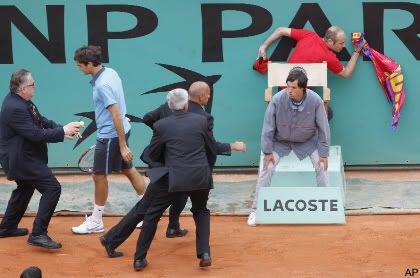 ↵
↵Of course, try as he might to elude the bumbling security forces...
↵
↵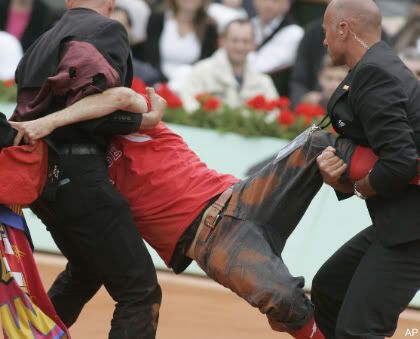 ↵
↵...he was ultimately brought into custody by the French savages, who will no doubt use their Bichon Frise attack dogs to bite him hundreds of tiimes; one or two of these bites may even draw blood. If he is a martyr, so it must be, and he will never be forgotten among our proud fanbase.
↵
↵TO BARCA!↵
This post originally appeared on the Sporting Blog. For more, see The Sporting Blog Archives.