Coaches going absolutely insane during halftime and postgame sessions is not what you'd call a new phenomenon. From Bob Knight's angry "I'm tired of losing to Purdue!" speech, to Dan Hawkins' "Division I football!" screed and most recently Mike Singletary dropping his pants as a motivational tactic, it's well-established that coaches regularly come unhinged. Generally, these postgame tirades don't come from front office personnel.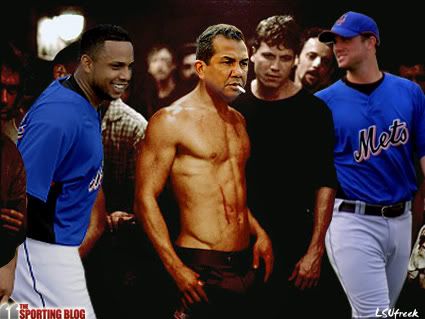 Mets VP of player development Tony Bernazard evidently got a little bit worked up "about 10 weeks before the All-Star Break," according to the New York Daily News and nearly started his own Fight Club in the clubhouse of the Binghamton Mets.
The Binghamton Mets clubhouse nearly turned into a scene out of WWE Raw recently, when VP for player development Tony Bernazard removed his shirt and challenged the Double-A players to a fight during a postgame tirade, multiples sources told the Daily News.

Bernazard particularly went after middle infield prospect Jose Coronado, using a slang term associated with a woman's anatomy, a source indicated.
The Daily News also reports Bernazard hasn't exactly been the picture of composure at the big-league level either.
Just check out the account of another recent freakout at Citi Field:
According to two sources, scouts had settled in a row behind the plate during a recent game. Bernazard arrived and found a Diamondbacks scout sitting in the seat he wanted. When Bernazard's underling suggested that the Mets VP wait until the end of the half-inning to change the seating arrangement in order to minimize the disruption, Bernazard went ballistic in a rant against his Ivy League-educated deputy.
Bernazard clearly lives his life by one motto: What Would Tyler Durden Do?
This post originally appeared on the Sporting Blog. For more, see The Sporting Blog Archives.