In 1973, after four successful seasons as the manager of the Kansas City Royals' Triple-A team at Omaha, Jack McKeon was named the team's manager. He was 43 years old. The oldest player in the major leagues in 1973 was a relief pitcher named Don McMahon, who had a very good year (1.48 ERA in 22 appearances) for the Giants. McMahon was about 11 months older than McKeon. I say "was", because McMahon died 24 years ago.
Jack McKeon managed the Royals for three years, just missing being their manager during their five-year playoff run from 1976-81. Then he managed the Athletics -- just after they finished their 1971-75 playoff run. He managed the Padres after their 1984 World Series appearance, and when he was with the Reds, it looked like he'd manage them into the playoffs in 1999. Nope -- got beat in a wild-card tiebreaker by the Mets. (And the owner of the Reds then, Marge Schott, is also dead.)
In 1973, Richard Nixon was President of the United States. He, and two other men who have been president since then -- Gerald Ford and Ronald Reagan -- are deceased. In 1973, the current president of the United States, Barack Obama, was twelve years old:
In 1973, if you wanted to listen to your favorite music, you couldn't put it in your pocket and plug earphones into your iPod. You had to take out a large circular disc and put it on a rotating device that had a "needle", that might scratch the disc and make the music full of popping noises. Trust me -- this wasn't a lot of fun. Especially if it looked like this:
In 1973, there was a country called the Union of Soviet Socialist Republics. (No, it wasn't run by Bowie Kuhn. It only seemed that way.) It would be 18 more years after that before that country would break up.
In 1973, you could buy a gallon of gas for your car for 50 cents. And that was after one of the OPEC oil embargos, which raised the price from 25 cents. People actually lined up for this privilege: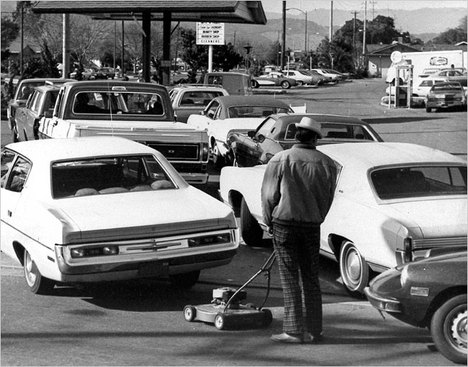 In 1973, you could use a computer -- if you went to a large building with either a box full of punch cards or heavy reels of magnetic tape, and were willing to wait several days while fine gentlemen like these men, known as "computer operators" ran your program:
... and then put your results on a 16x24 sheet of paper, likely attached to about 20 other sheets of paper. (And yes, they all had hair and glasses like that.) Smaller computers existed, but they were generally limited to about eight kilobytes of memory. Today, you can get 1,000,000 times as much memory on a card the size of your thumbnail. And if you wanted to "print" something at home, you had to use a device called an "electric typewriter", which is today the source of endless fascination to teenagers who cannot imagine devices like this had any practical use.
Among well-known people still alive in 1973: Juan Peron, Earl Warren, Charles Lindbergh, Walter Brennan, Ed Sullivan, and baseball Hall of Famer Harry Hooper, who was born in 1887.
Come to think of it, that's probably why Jack McKeon is taking the managing job with the Marlins at age 80. He's trying to forget what it was like to be alive in 1973, too.