Earlier this month, ESPN's Mark Simon taught us all a simple lesson: you do not hit the ball over Carlos Gomez's head. From his article:
We have tools that allow us to dissect video-reviewed data of batted-ball locations. They aren't perfect, but they allow us to generate images such as this above, which looks at how Gomez fares against batted balls that stay in the park, have an estimated distance of about 365 feet or longer, and are hit to what we would call "dead center."

Gomez has been on the field for 35 balls that met our criteria. He's caught 34 of them (97 percent).
Just how good is that? Maybe a quick graphic will help.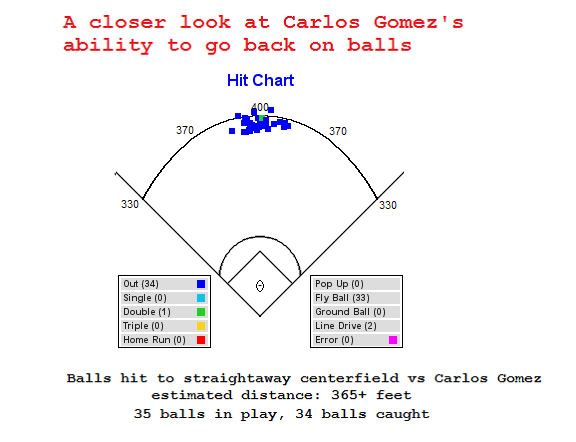 Tuesday night, Gomez showed us that he wouldn't let anything as silly as, say, A HILL stop him from doing what he was put on this earth to do -- run down a fly ball.

Carlos Gomez, Destroyer of Dreams.