Good afternoon HDWEB'ers, it's March 11th and Ervin Santana still doesn't have a job. Here's everything you need to know.
If you have ideas or suggestions, send 'em my way at @justinbopp.
The greatest spring training home run of all time:
I challenge you to find evidence of a better, more beautiful, more kick-ass spring training home run than this one from Giancarlo Stanton. Hell, I'd put it in the pantheon of greatest home runs ever if you give me a minute. Have evidence otherwise? Let's see it in the comments.
-- Walmart parking lot
-- Nobody goes to Padres games, why not PetCo?
-- The Dairy Queen bathroom
-- Skyline High School
-- Oakland Community College, Auburn Hills Campus
-- Somewhere on Interstate 580, probably
Time to panic in Atlanta?
Pitching injuries and the new Brave world - SBNation.com
The Braves' pitchers are dropping like pitchers, and it's almost impossible to watch.

The Atlanta Braves: What a difference a day makes - MLB Daily Dish
An offseason of long-term extensions and otherwise low-risk moves is potentially undone in a 24-hour period.

Hot take: Let's pump the breaks on our way to panicville, shall we? Have you seen that division? The Nationals could be a legitimate threat, I guess, but the Braves are still the team to beat and probably will be for some time. I'm an Ervin Santana fan -- but is he worth a draft pick? Does anyone expect him to repeat what he did at Kauffman last season? The answer is no, and no. Braves fans: sit tight, don't panic. You got this.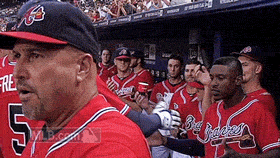 Medial tibial stress syndrome -- more commonly known as shin splints -- is an injury that affects the front of the tibia, the larger and more prominent of the two bones in your lower leg, as well as the surrounding muscles. It is almost exclusively seen in athletes and most often due to running and/or over-training.

The injury itself is due to a chronic remodeling of the muscle, tendon, and bone tissue in the affected area -- basically, the tissue is inflamed and has not been given ample time to heal.
@ErvinSantana_54 I just traded for you...I think you fit nicely in this rotation! #BlueJays @BJsFans pic.twitter.com/fE7LTY75IK

— JaY (@SickNasty72) March 8, 2014
via @EyeOnBaseball
Have suggestions or want to be featured in HDWEB? Send links to Justin at @justinbopp and hashtag #HDWEB.