As of 11:30 a.m ET, a large area of showers and thunder storms continue to move across north Florida. These are moving along a stalled boundary that kept rain showers south of Daytona International Speedway on Saturday during the Nationwide Race. Overnight the front moved back north with showers and storms moving along it as we go into the afternoon.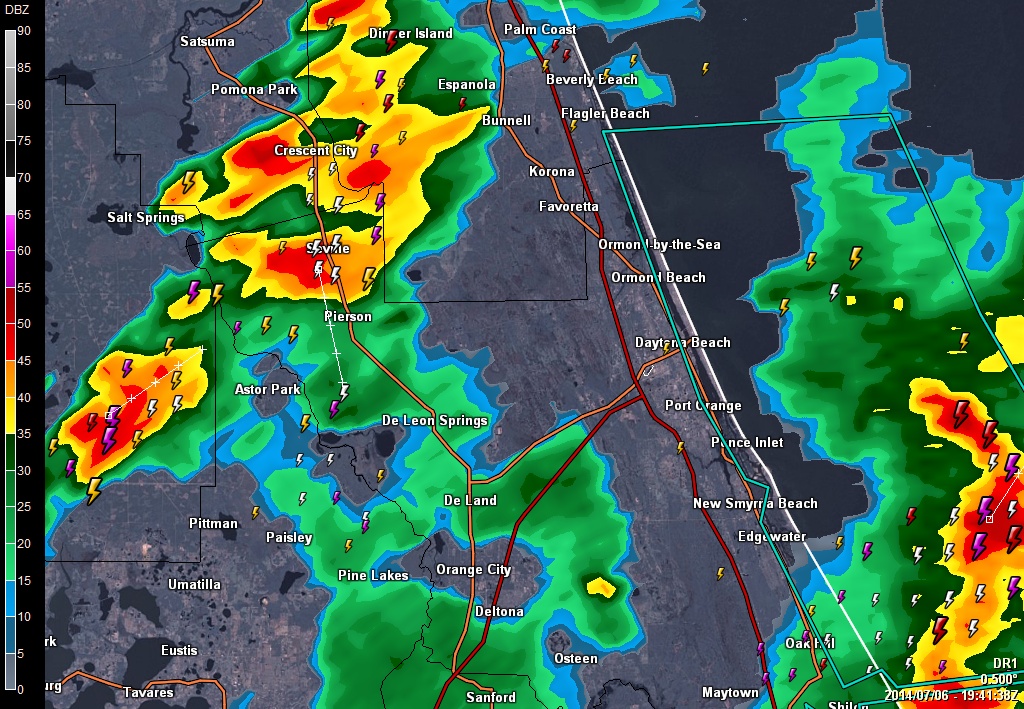 DO WE START ON TIME? I am not as concerned about the rain to the north as I am about possible showers and storm development as we go into the afternoon and evening.  Odds of starting on time around 75 percent.
WILL WE SEE ANY RAIN DELAYS? Given what we are seeing on radar and what all the forecast data is showing for later this afternoon. I think the odds of seeing at least one if not two weather related delays is around 90 percent. I expect as we start to head into the mid afternoon around 3 p.m. ET we will see areas of storms and showers forming and getting closer to Daytona International Speedway.
WILL WE GET A COMPLETE RACE? I think we can complete all 200 laps of the Daytona 500 today, it just may not be without weather delays. The concern this afternoon is when the showers form, where they form, and how long they last. The atmosphere over Daytona International Speedway is unstable with warm moist air in place. With just a little sunshine this morning, that will help get the storms going later today.

Keep in mind that it's the rain you don't see on radar that you have to worry about, not the rain you do. What does that mean? Forecasting NASCAR races for over five years, it's the showers that just pop up near the track that cause the most problems. The odds of getting a complete race in today 68 percent.
WHAT ARE THE ODDS WE HAVE A TOTALLY RAIN-FREE RACE? This is a little harder to answer. It's possible, but based on the forecast I'd say the odds of a totally rain-free race are somewhere around 10 percent.
COULD WE RACE ON MONDAY, AND WHAT IS THE FORECAST? I'm still leaning towards us seeing at least an "official" race today, meaning we get to or beyond halfway, but there are a few weather scenarios that could push the Great American Race into Monday. If that were to happen, the forecast for Monday is similar to today with more scattered afternoons showers.
Showers and even isolated storms are possible through out the day especially the afternoon. Follow me on Twitter @NASCAR_WXMAN and like me on Facebook for the latest weather updates.
Conditions in Daytona Beach, FL: Click here for Current Weather Conditions – Look at Doppler Radar | Mobile Friendly Site | Mobile Radar
SUNDAY:
11:00 a.m ET
Daytona 500 Pre-Race – Partly sunny, slight chance of  a showers  – temp: 75
12:00 p.m ET
Daytona 500 Pre-Race – Partly sunny, slight chance of  a showers  – temp: 77
1:00 p.m ET
Daytona 500 – Clouds and sun, chance of sct'd t-storm & showers  – temp: 78
2:00 p.m ET
Daytona 500 – Clouds and sun, chance of sct'd t-storm & showers  – temp: 79
3:00 p.m ET
Daytona 500 – Clouds and sun, chance of sct'd t-storm & showers  – temp: 79
4:00 p.m ET
Daytona 500 – Clouds and sun, chance of sct'd t-storm & showers  – temp: 78
5:00 p.m ET
Daytona 500 – Clouds and sun, chance of sct'd t-storm & showers – temp: 77
6:00 p.m ET
Daytona 500 – Mostly cloudy, chance of sct'd t-storm & showers – temp: 74
7:00 p.m ET
Daytona 500 – Mostly cloudy, slight chance of  a showers – temp: 73
8:00 p.m ET
Daytona 500 – Mostly cloudy, slight chance of  a showers – temp: 71
9:00 p.m ET
Daytona 500 – Mostly cloudy, slight chance of  a showers – temp: 68