Kevin Durant scored 33 points, Derek Fisher drained all five of his three-point attempts and the Oklahoma City Thunder looked downright dominant in a 112-95 win over the Miami Heat on Wednesday night. As if we needed more reasons to get excited about this team, a rematch of the 2012 NBA Finals turned into a serious statement game in South Beach.
To get some perspective on exactly what OKC did tonight, it's necessary to point out Miami led 22-4 in the first quarter. Early in this game, LeBron James and company were firing on all cylinders, hitting a number of long jumpers to expand their lead and put the Thunder off kilter.
However, that early hot shooting quickly gave way to clank after clank. With the Thunder refusing to give up easy shots near the rim, Miami kept shooting to no avail -- the Heat would hit just one more three-pointer after Chris Bosh's with seven minutes left in the first. That's 43 minutes, 16 attempts, 15 misses, and a lot of confused Miamians (Miamites? Miamia?).
Still, all those bricks wouldn't have been nearly as painful if OKC was having similar issues. They weren't. The Thunder hit an incredible 16-of-27 (60 percent) 3-pointers on Wednesday, by led Fisher's perfect effort and the usual brilliance of KD: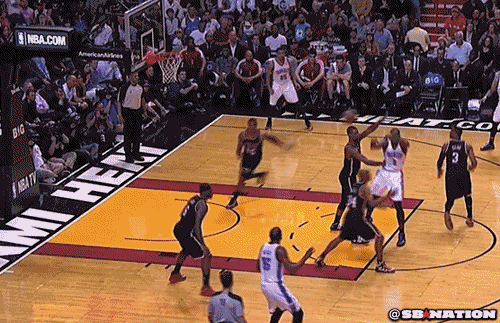 After the Heat's early run, the final 41-plus minutes of the game saw the Thunder go on a 108-73 run. So now we know that's possible, I suppose.
For Durant, who finished 12-of-22 from the field and added seven rebounds to his impressive scoring effort, the greatness seems routine at this point. The real difference might've come from Fisher, Jeremy Lamb (18 points) and Thabo Sefolosha (nine points, six steals, five rebounds), although we should probably talk about Kendrick Perkins.
Oh, Kendrick Perkins. Here's the stat line (NSFW!!): five minutes, zero points, zero rebounds, zero assists, zero shot attempts, zero blocks, zero steals, zero turnovers, zero fouls. I'd call his performance ghost-like, but his minus-13 plus-minus reveals his true impact on the game. He's definitely not a nice ghost like Casper.
But in spite of Perkins' unintentional sabotage, the Thunder's victory was never in doubt after the third quarter. It's a testament to this team, and more importantly, it's a testament to KEVIN MOTHERFLIPPIN' DURANT, HOOPS MONSTER. This may not have been a particularly competitive game, but it's a firm indicator that OKC will be a major player this postseason.
As for Miami, LeBron led the way with 34 points, but the team's non-Big Three players scored just 28 combined points. The team shot 51 percent overall, but that inability to hit 3-pointers proved fatal during the attempted comeback.
• NBA newsletter: Good morning, Dwight Howard hacks back
• Garrison: Anthony Davis is the NBA's next superstar
• The Hook: How Adam Silver can end the NBA's lockout pattern
• Mission Improbable: How do you score on the Pacers?
• Ziller: The 30 biggest moments of David Stern's career