LeBron James and Steph Curry traded buckets late into the night, but it was the reigning MVP who once again came out on top. With the Heat trailing by two, James hit a ridiculous stepback three-pointer to give Miami a 111-110 win in their last game before the All-Star break.
James was spectacular in his 42 minutes of work, finishing one assist shy of a triple-double and pacing Miami on both sides of the ball throughout the night. He ended the game with 36 points, 13 rebounds and nine assist, shooting 14-of-26 from the floor. No matter Golden State through at him, he seemed to find an answer. Sometimes that came from deep (4-of-8 shooting from three-point range) and sometimes it came by asserting his will inside like this:
Miami also got 19 points from Chris Bosh and 41 points from its bench, with Michael Beasley (16 points) powering the second unit.
The Warriors fall to seventh in the Western Conference standings in the loss, but didn't lose for lack of effort. Curry was tremendous, making all four of his attempts from three-point territory to finish with 29 points and seven assists. The possession before James' eventual game-winner saw Curry convert a frantic and-one layup to give the Warriors a one-point lead.
David Lee added 21 points and 11 rebounds for Golden State in the loss.
If most of the basketball public had their attention on the Warriors-Heat game, they missed a terrific back-and-forth contest between the Clippers and Trail Blazers. Los Angeles picked up where they left off after a 45-point stomping of the 76ers in their last game, out-slugging Portland in the fourth quarter behind a mammoth game from Blake Griffin.
Griffin has made the All-Star team every season of his career, but he's truly stating to come into his own lately. He finished with 36 points and 10 rebounds on 13-of-21 shooting, and he had plenty of help from teammates Jamal Crawford and Chris Paul. Paul looked like his self, finishing with 20 points and 12 assist in 39 minutes. Crawford scored 25 by forcing his way into the lane and making 10-of-11 free throws.
On the flip side, this was another tough loss for Portland. LaMarcus Aldridge bounced back from a stinker against the Thunder on Tuesday to score 25 points on 10-of-18 shooting. Damian Lillard (21 points) and Nicolas Batum (13 points, even rebounds, seven assists) also played well in the loss
#SoWizards
It's something of a running joke in the Wizards' online community, but with each terrible offensive set, face palm and frustrating loss, Washington's ability to agonize its fan base remains something special. This time, John Wall and company appeared set to earn an incredible comeback win in Houston before James Harden happened.
Four seconds were enough for Harden to draw an unusual off-ball foul on Trevor Ariza, hit the free throw, get back possession and drain the game-winning layup in the final second:
Those final points gave Harden 35 points on 14 shots, which is simply not right.
The Rockets were powered by an incredible free throw disparity in this one, as they took 47 to Washington's 16. Those numbers alone explain why Houston was able to win despite Washington's hot three-point shooting and a 24-9 difference in turnovers.
Trevor Ariza was unreal for the Wizards, hitting 10 three-pointers en route to 32 points and 11 rebounds, while Wall added 19 points and 14 assists with zero turnovers.
Atlanta led 12-4 midway through the first quarter, but that's about where things peaked before Toronto remembered it hasn't lost a home game to an Eastern Conference opponent since mid-December. The Raptors took the lead by halftime, expanded it to double digits in the third quarter and had a blowout in the making not much later.
Toronto's last loss at home against the East came on Dec. 18 against Charlotte. That's not long after the Rudy Gay trade, as the Raptors have been utterly stingy at Air Canada Centre since the deal.
DeMar DeRozan starred for the Raptors on Wednesday, scoring 31 points on 11-of-19 shooting to lead all scorers. Kyle Lowry had a double-double with 16 points and 13 assists, while Jonas Valanciunas grabbed 14 rebounds but shot just 1-of-9 from the field. We really gotta appreciate this Toronto backcourt, though:
Gustavo Ayon, who's starting after the Hawks lost Al Horford and Pero Antic to injuries, led the team with 18 points and 10 rebounds.
San Antonio didn't have Tony Parker, Manu Ginobili or Kawhi Leonard, but who cares when you have Marco Belinelli, Patty Mills and Boris Diaw? At this point, guys stepping up for the Spurs isn't even big news. You just silently curse Gregg Popovich's dark magic, take the loss and move on.
Belinelli was simply fantastic all night, finishing with 16 points, 11 rebounds and eight assists in a Ginobili-like effort. Diaw added 18 points on 8-of-12 shooting and Mills came off the bench to score 16 points in just 20 minutes. Oh, and then there's Tim Duncan, putting in his 25 points and nine rebounds at the ripe age of 37 years old.
Rajon Rondo showed some signs of life, going for 16 points on 6-of-7 shooting (including 4-of-5 from three), but it's hard not to come away from these games impressed by San Antonio's uncompromising ability to win.
Minnesota ran on all cylinders in the 27-point win, draining three-pointers and forcing turnovers like crazy. Without point guard Ty Lawson, Denver often looked completely lost offensively, losing possession 21 times without even taking a shot.
Randy Foye was the biggest offender, committing eight turnovers in 33 minutes for the Nuggets.
The Timberwolves, meanwhile, had a number of players go off. Kevin Love doing his thing with 32 points, 11 rebounds and eight assists is nice and all, but how about Ricky Rubio stepping up with the 11-point, 12-assist, seven-steal performance? And then there's J.J. Barea, who scored 18 points on perfect 8-of-8 shooting.
We already knew this, but when Minnesota looks good, that team reeeeeaaaallllyyyy looks good.
Memphis kept rolling with a road win on Wednesday, but the big story from Orlando is the status of Marc Gasol. The reigning Defensive Player of the Year left in the third quarter after banging knees with Jameer Nelson, calling for trainers immediately after the contact.
The severity of Gasol's injury wasn't immediately clear after the game, so everyone in Memphis will be waiting anxiously for the news.
Back to the results, Orlando couldn't quite rally for a win even after Gasol went down. The Grizzlies blew an eight-point halftime lead and went into the final minute up 80-79 before a clear path foul on Arron Afflalo. That helped put away the game as Courtney Lee hit two free throws and Zach Randolph followed up with a jumper.
Randolph led all scorers with 20 points. Nikola Vucevic and Tobias Harris scored 13 points apiece to lead Orlando.
That's four straight wins for Cleveland, including three since the firing of GM Chris Grant. On the other hand, the Pistons' honeymoon following the ouster of coach Maurice Cheeks on Monday appears to be over. A win over San Antonio in interim coach John Loyer's debut was nice, but a home loss to the Cavs is pretty sobering.
Things were looking fine for Detroit until the fourth quarter, when the Cavaliers scored 34 points to pull away. Only two Cleveland players, Tristan Thompson (25 points) and Kyrie Irving (23 points), scored in double digits, but those two piled up 25 of their 48 points in the final eight minutes.
Andre Drummond led Detroit with 16 points and 17 rebounds, while Josh Smith added 18 points, 10 rebounds and four blocks. Greg Monroe had 16 points, nine rebounds and five assists.
Indiana's worst offensive performance of the season admittedly comes at a weird time. Playing at home against one of the league's worst defenses and coming off a 119-80 drubbing of the Nuggets, the Pacers somehow stumbled to a new low Wednesday with just 73 points.
The numbers are ugly across the board for Indiana, which shot 32 percent from the field and committed 16 turnovers. Every single player on the team shot below 50 percent, including Paul George (4-of-17), Lance Stephenson (6-of-16), David West (5-of-12), George Hill (5-of-11) and Danny Granger (4-of-9).
Dallas didn't fare much better against Indiana's typically stingy defense, shooting 36 percent overall and 29 percent from three, but Monta Ellis starred with 23 points, nine rebounds and six assists. He's pretty good, ya know:
A vintage performance from Paul Pierce fueled the Nets to a 16-point victory on Wednesday. The future Hall of Famer scored 25 points on 9-of-11 shooting and hit all five of his three-pointers, rebounding from a couple of tough games last weekend.
The Bobcats kept things close throughout the first half, but Brooklyn pulled away in the third quarter thanks to some hot shooting. Pierce was obviously a big part of that, but Mirza Teletovic also hit a trio of three-pointers as Brooklyn finished with 13 as a team.
Charlotte simply couldn't match that effort on the offensive end. The team was a decent 10-fo-27 from three-point range, but an abysmal 7-of-15 from the free throw line. On a 41 percent shooting night, some more easy opportunities at the charity stripe would've been welcomed.
Foul trouble kept Anthony Davis quiet most of the game, but New Orleans still managed to top a miserable Bucks team on Wednesday. Eric Gordon led the team with 21 points, Alexis Ajinca added 16 on 7-of-7 shooting and five other players reached double-digit scoring for the Pelicans.
Sidelined early after drawing some tough whistles, Davis ended up playing just 20 minutes in the win. He recorded 12 points, two blocks and one rebound, making it one of his least productive performances of the season.
Brandon Knight played 45 minutes for Milwaukee, leading the way with 22 points and nine assists. Gary Neal added 18 points off the bench.
What better place for the rebirth of JIMMERTIME than the most historic arena in basketball? With the Kings in need of a boost at Madison Square Garden, Jimmer Fredette hit 6-of-8 threes and scored a career-high 24 points to power the team's overtime win.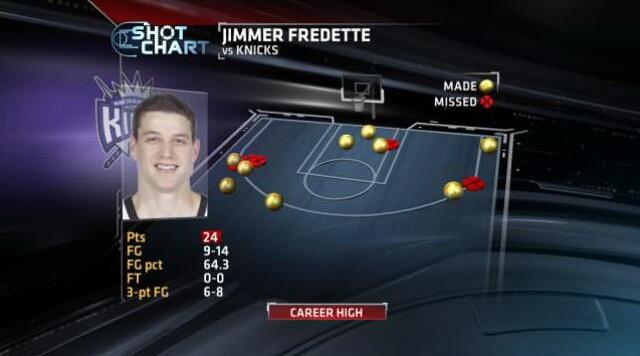 (via @ESPNNBA)
While Sacramento got its usual scoring punch from DeMarcus Cousins, Rudy Gay and Isaiah Thomas, who combined for 59 points, it's the unexpected contribution from Fredette that changed the game. At times going to Jimmer over the usual suspects in Marcus Thornton and rookie Ben McLemore, coach Mike Malone showed faith in the former BYU star.
The Knicks got a huge 36-point, 11-rebound effort from Carmelo Anthony, but losing Iman Shumpert to a hip flexor proved costly as Mike Woodson stuck to a short rotation. Amar'e Stoudemire played 37 minutes in the loss, his most playing time since the 2012 playoffs.
Jazz 105, 76ers 100
Alec Burks blew up for 26 points on just 10 shots as the Jazz improved to 12-14 at home this season. Burks shot 13-of-14 from the free throw line Wednesday, helping to make up for brutal shooting days by Gordon Hayward and Trey Burke.
Philadelphia got at least 15 points from each of its five starters, but the bench got outscored by 46 points as Utah depended on its Burks-led second unit to get the win. Evan Turner led the Sixers with 21 points, while Michael Carter-Williams added 19 points, eight assists, five rebounds and three steals in the loss.
Marvin Williams added 13 points and 14 rebounds for the Jazz.
• NBA newsletter: Good morning, LeBron is a unicorn | Game-winner
• The ballad of Pierre the Pelican | #Lookit
• Stat Stuffing: Dirk Nowitzki, the ageless wonder
• NBA trade rumors | Ainge may be overvaluing Celtics
• The Hook: The Knicks' record is upside down, and more misery