In a classic NBA scoring duel, Patty Mills took on Damian Lillard. Though Lillard won the shootout 31-29, the Spurs hung on for a 111-109 victory over the Blazers.
With Tony Parker out and Tim Duncan resting, the Spurs weren't playing a classic lineup. But Mills and Manu Ginobili combined for 45 points off the bench. The win was the third straight for San Antonio (40-15), strengthening their hold on the second seed in the Western Conference.
As trade rumors surround the Knicks, Carmelo Anthony just keeps balling. The All-Star scored 42 points on 16-of-29 shooting in Wednesday's win, making up for a brutal performance by his fellow starters.
Seriously, Tyson Chandler, Raymond Felton, Iman Shumpert and Pablo Prigioni were terrible in this one. The four non-'Melo starters combined for just 17 points on 6-of-24 (25 percent) shooting. The team was fortunate to get efficient nights from J.R. Smith (19 points) and Tim Hardaway Jr. (16 points) off the bench.
Anthony Davis didn't go nuts, going for 14 points, 10 rebounds and five blocks, but this lefty alley-oop finish was downright dirty ...
... and nobody that good on offense should be allowed to do this on the other end:
Kevin Love and Ricky Rubio. Boy, oh boy. They may be flawed, and they may not be capable of leading a team to greatness, but when those two are on, even a team like the Pacers looks helpless. On Wednesday, Love and Rubio were simply electric in a surprising win.
It's all in the numbers. Love went off for 42 points and 16 rebounds, while Rubio dished out 17 assists and grabbed seven rebounds. The point guard scored just six points on 2-of-10 shooting, but with Love pouring it in (14-of-22 from the field) the passing was more than enough.
For Indiana, which shot 40 percent and committed 21 turnovers, the best highlight of the game was probably a play that didn't count: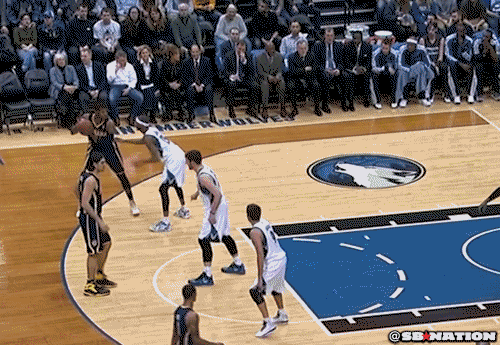 The big dunk from Paul George came after the whistle, but hey, still pretty sweet. The All-Star forward was a monster Wednesday, recording 35 points and 11 rebounds, but a cold night for his teammates proved costly in the end.
Great Caesar's ghost, look at these Cavs! Six wins in a row, and we'll do the classy thing by not pointing out how weak the team's schedule has been during that stretch. Trade rumors surround the team and an interim GM calls the shots, so things remain chaotic in Cleveland, but a playoff spot is becoming increasingly realistic.
Kyrie Irving shot just 8-of-18, but the 22-point, seven-rebound, seven-assist performance still included some dazzling plays:
The Cavaliers also got 16 points and 14 rebounds from Tristan Thompson, plus an efficient 16 points on just five shots from Tyler Zeller.
Rebounding from a poor performance Tuesday against Toronto, the Wizards stepped up on the second night of a back-to-back to crush short-handed Atlanta. Leading 31-14 after the first quarter, Washington eventually blew most of that lead before regaining its footing in the second half to put things away.
John Wall had another strong game for the Wiz, leading the way with 21 points and 12 assists while committing zero turnovers or fouls. Increasingly mistake-free performance has been a big part of Wall's rise this season. Meanwhile, Trevor Ariza had 19 points, nine rebounds and one crazy three-quarters-of-the-court shot:
Heyoooooooooooo.
The Bulls led by as many as 15 in the second half, but the Raptors rallied to set up a last-second opportunity to tie or win the game. Jimmy Butler blocked DeMar DeRozan's jumper, though, and Toronto wouldn't be able to complete the comeback.
DeRozan was the star for Toronto, leading all scorers with 32 points:
He wasn't particularly efficient, shooting 11-of-25 from the field, but his scoring helped keep the game relatively close before his teammates chipped in during the rally.
Joakim Noah, meanwhile, remains a true gem. The All-Star big man powered the Bulls' offense with eight points and 13 assists, showing off his unusual skillset for the center position. Chicago shot 7-of-12 from three-point range as a team, led by Kirk Hinrich, who shot 3-of-3 from three and 8-of-11 overall en route to 19 points.
This completes quite the season sweep for Charlotte. Over three games against Detroit this season, the Bobcats averaged 113.3 points and a 13.3-point margin of victory. For a team that typically wins with defense, the Bobcats' offense has blown up whenever the Pistons have been around.
Kemba Walker was dynamite for the Bobcats on Wednesday, recording 24 points, 16 assists and five rebounds. Al Jefferson added 29 points and eight rebounds. Charlotte shot 51 percent as a team and dominated the boards, 49-31.
Back to a season-high 10 games below .500, the Pistons continue losing ground on the Bobcats for the eighth seed in the Eastern Conference. Brandon Jennings led the team with 20 points and 7-of-18 shooting, and has scored 20-plus in 11 of his past 13 games.
Utah led by eight at halftime and extended its lead to 13 in the third quarter, but Andray Blatche caught fire and led the Nets back to victory. Blatche and Joe Johnson scored a combined 52 points as Brooklyn earned its 15th win in 21 games this calendar year.
Meanwhile, here's probably your best Fun Fact of the Night:
Via @YESNetwork, Marcus Thornton's favorite player growing up was Joe Johnson.

— devin kharpertian (@uuords) February 20, 2014
Joe Johnson, seven-time All-Star and hoops idol to kids everywhere. Dream big, ya'll.
(Also, Thornton was 19 when Johnson made his first All-Star team ... not really sure how JJ qualifies as his favorite playing while "growing up," but that's another story.)
Phoenix turned up the pace for its third win in four games, taking a 30-8 advantage on fast break points as the Celtics defense struggled to recover. This wasn't a particularly well-played game by either team, but the Suns' ability to find easy buckets in transition gave it a sizable advantage in the end.
Goran Dragic had another solid game for the Suns, recording 17 points, six assists and four rebounds. Markieff Morris came off the bench to lead the team with 18 points, while P.J. Tucker filled the box score with 10 points, 11 rebounds, six assists and three steals before fouling out.
The Celtics got 18 points, 10 assists and seven rebounds from Rajon Rondo, but he shot just 7-of-22 from the field. Brandon Bass added 18 points and eight rebounds in the loss.
Sacramento's power forwards -- Carl Landry, Jason Thompson and Derrick Williams -- shot just 7-of-18 from the field. It's not easy hitting buckets on this guy (also, don't tell David Lee something he doesn't want to hear):
Lee led Golden State with 23 points and 11 rebounds, while Stephen Curry chipped in with 13 points and eight assists in the win.
Isaiah Thomas led Sacramento with 26 points in the loss and dished out seven assists, but also committed seven turnovers.
James Harden had 29 points and 11 assists to lead the Rockets to their eighth straight victory on Wednesday night at Staples Center in Los Angeles. The Lakers primarily tried to use Chris Kaman on Dwight Howard. It often went like this:
Howard finished with an easy 20 points on 14 shots, and 13 boards, against his old team. Chandler Parsons added 18 points, including two three-pointers. Houston shot 18-for-35 from distance against the Lakers, helping pad the final margin.
The Lakers, losers of four straight, were led by Wesley Johnson with 24 points and seven rebounds. Kendall Marshall added 16 assists to go with his 20 points for Los Angeles in defeat.