The Philadelphia 76ers never planned on being competitive this season, but a surprising 3-0 start and an exciting brand of basketball made Philly an unlikely feel-good story through the season's first month. The good vibes didn't last long though, and the Sixers have been torpedoing to the bottom of the standings ever since. Deals made before the Feb. 20 trade deadline have made a weak roster embarrassingly thin.
Tanking Too Hard
What's left for Philadelphia fans is a truly awful basketball team. At this point, with guys like Henry Sims and Hollis Thompson playing starring roles, one might even wonder if GM Sam Hinkie has taken this whole rebuilding project a tad too far.
We can't know the answer to that question for at least a few years, but for now, we know the Sixers are one busted bunch of hoopsters. If you haven't been watching over the past month (all losses), here's what you missed from the 76ers during their on-going 12-game losing streak:
Feb. 1: Pistons 113, 76ers 96
If the Sixers needed any indication of how February would go, it came with a lopsided loss to the flailing Pistons on the first day of the month. Detroit entered the game having lost 11 of its past 15, but managed to get 40 free throws while dominating the boards, 58-44.
Andre Drummond vs. Spencer Hawes went about as you'd expect. Drummond was simply overwhelming, going for 22 points on 10-of-11 shooting in addition to 14 rebounds and five blocked shots. Hawes scored four points on 2-for-8 shooting in 28 minutes.
At one point in the loss, Brandon Jennings threw a basketball at Evan Turner after he committed a foul by accidentally falling over Kentavious Caldwell-Pope. I imagine it was not the first time someone wanted to throw something at a Sixers player recently.
Feb. 9: Clippers 123, 76ers 78
What a masterpiece this effort was. The way you watch a terrible movie off Netflix with your friends simply to laugh at the ineptitude, welcome to the sporting event equivalent. Let's do a quick score progression just so you can embrace the sadness:
9:15 left in first -- Clippers 13, 76ers 0 (time to rally!)
4:45 left in first -- Clippers 30, 76ers 5 (seriously, rally time!)
End of first -- Clippers 46, 76ers 15 (36 more minutes!)
7:26 left in second -- Clippers 58, 76ers 19 (this can't get worse, at least!)
Halftime -- Clippers 69, 76ers 30 (ended the half on an 11-11 run! good work!)
7:58 left in third -- Clippers 82, 76ers 33 (we're not gonna win, are we?)
The 76ers shot 27-of-100 overall and 3-of-28 from beyond the arc. Blake Griffin, on the other hand, recorded 26 points, 11 rebounds and six assists in 26 minutes. Simply put, this was not a fair contest: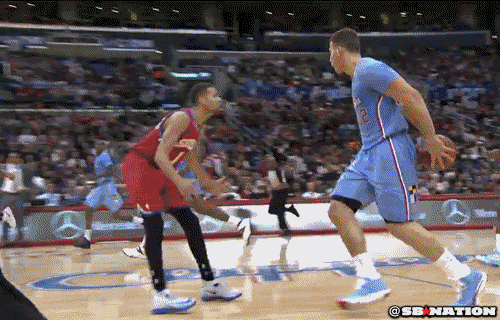 Feb. 10: Warriors 123, 76ers 80
Just the second time in NBA history that a team has lost back-to-back games by 40-plus points. The other time? Back in 1993-94, also by Philadelphia.
We could also call this The Marreese Speights Game, because what he did to his former team on this night was simply amazing. Usually a bit-time player off the bench for Golden State, Speights went off for a career-high 32 points (on just 15 shots), eight rebounds and three blocks in just 26 minutes.
When you're getting lit up by Marreese Speights, that's the sign. All is lost. Batten down the hatches. It's going to be a long summer at sea.
Feb. 24: Bucks 130, 76ers 110
Now we skip forward a couple weeks and after a string of mounting losses, to Philadelphia's latest highly publicized beatdown. This loss wasn't by 40 points, but it did come against a team with 45 losses already on the season. Milwaukee is really, really bad.
The thing is, Philadelphia is even worse:
Beyond missed dunks, the Sixers' defense was unimaginably bad in the loss, allowing Milwaukee to hit 57 percent of its shots. Playing at a frenetic pace, the Bucks managed 130 points despite committing 23 turnovers. They just had countless opportunities to put the ball in the bucket.
Fans at Wells Fargo Center, or at least this one guy in particular, were not enamored:
This is how bad the Sixers looked lately... The fans are literally sleep during games... http://t.co/mH2TOlKwju pic.twitter.com/Iilbgoew8W

— War Room Jimmy (@jwtheblueprint) February 25, 2014
Feb. 26: Magic 101, 76ers 90
Not as pathetically lopsided as the other losses, but coming at home, this is pretty miserable. Orlando entered on a 15-game road losing streak -- tying a franchise record -- and hasn't exactly gone into win-now mode with moves like the Glen Davis release.
Tanking Too Hard
Tanking Too Hard
These are both tanking teams, but in this game, you saw the difference. The Magic at least have a respectable starting lineup, one populated by intriguing young players and veteran point guard Jameer Nelson. The 76ers started Sims, Thompson and James Anderson on Wednesday.
Philadelphia also played Eric Maynor, Arnett Moultrie, Byron Mullens and Elliot Williams in the loss. Because those guys are in coach Brett Brown's rotation.
So that's what has been up in Philadelphia over the past few weeks. Don't expect it to end any time soon.
It's part of the design, after all.