Looking to capitalize on their surprising success this season by bringing in some veteran talent, the Phoenix Suns inquired on Memphis Grizzlies big man Zach Randolph recently, according to Sam Amick of USA Today. However, the team's efforts were rebuffed.
Bookmark This
Following the injury to Marc Gasol, the Grizzlies' season appeared to be on the ropes, but Randolph helped keep the team's playoff hopes afloat before Gasol returned. He's averaging 17.5 points and 10.6 rebounds per game this season, and handling his biggest offensive workload in three years.
For Phoenix, the current goal is finding a short-term replacement for Miles Plumlee, who's slowed down after a surprisingly strong start to the season. The Suns have a number of interesting forwards, but Channing Frye and the Morris brothers play more perimeter-focused games than Z-Bo, so he could be a strong addition if Memphis relents.
Chris Kaman on potential trade: "I don't care."
Asked how he'd feel about a potential trade out of L.A., Chris Kaman told ESPN Los Angeles' Dave McMenamin he's indifferent to the situation.
"I don't care, I honestly don't care," Kaman said when asked if he has thought about the possibility of the Lakers trading him. "It's not something that I want to do, but it's not going to make me go to sleep at night and have to stay awake all night tossing and turning thinking about it."
Kaman went on a bit longer about how little he cares for the trade rumors, which isn't exactly the best way of showing people you don't care about something, but things have been tough for Chris lately.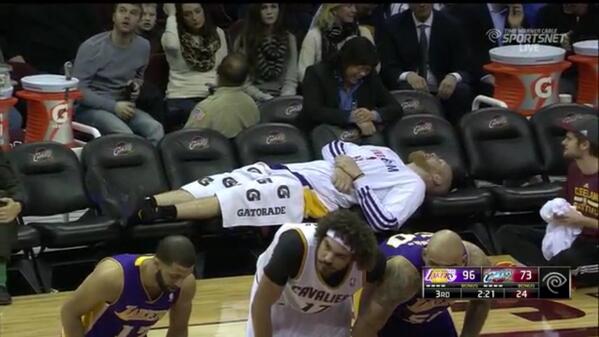 Once one of the more productive big men in the league, the past few years haven't been kind to Kaman. Getting mostly spare playing time in Mike D'Antoni's rotation as the Lakers look towards the future, he's understandably been less than thrilled with the situation.
In 26 games this season, Kaman is averaging 8.7 points and 5.3 assists in 17 minutes per contest.
Apparently "unsure" as to why he's in Mike Woodson's doghouse, New York Knicks forward Metta World Peace is open to being traded, reports Marc Berman of the New York Post. The veteran has playing sparingly since returning from injury a couple weeks ago and apparently is growing frustrated with the lack of floor time.
Signed to a two-year deal by New York during the offseason, World Peace was supposed to help push New York over the edge and into title contention, but instead the season has been a disaster for the Knicks. With Woodson desperately trying different things to stem the tide, it's come at the expense of steady playing time for certain players.
World Peace is among those players, and he's averaging a career-low 14.1 minutes per game this season. Don't be surprised if some contenders inquire, looking for a defensive-minded veteran with Finals experience under his belt, though he's already refuted the rumor on his Twitter feed:
For the record, im happy with every second i get. whethers its .8 or 35 mins.

— Metta World Peace (@MettaWorldPeace) February 8, 2014
Bobcats, Spurs possible options for Evan Turner?
Unlikely to offer up a contract extension this summer, the Philadelphia 76ers have been open to dealing Evan Turner for a while. Leading up to the trade deadline, the Charlotte Bobcats and San Antonio Spurs could be two of the most likely destinations, according to Amick.
However, given the cost of acquiring Turner through trade -- Amick mentions a first-round pick as a likely target for Philly -- it's possible teams like San Antonio and Charlotte wait until the offseason. He's a restricted free agent, and it's likely some team could bid out of Philly's price range fairly easily.
The former No. 2 pick has been productive this season, averaging 17.8 points, six rebounds and 3.8 assists per game, but he's also benefited from the team's fast-paced style. In terms of efficiency, he's still a middling long-distance shooter and has a mediocre 13.5 PER.
Warriors willing to discuss anyone but Curry, Bogut?
The Golden State Warriors remain one of the few teams capable of title contention this season, but recent hiccups have clouded the team's aspirations a bit. As such, Amick says players like Andre Iguodala and Klay Thompson could be available if things don't improve soon:
Considering the heightened expectations this season and the fact that Golden State owner Joe Lacob means it when he says he's trying to build a championship team, it's safe to say the Warriors aren't content with their current standing (sixth in the Western Conference). They have one of the most aggressive front offices in the league, and rival executives are of the belief that anyone not named Stephen Curry or Andrew Bogut is up for discussion.
Curry and Bogut remain the team's most important players on offense and defense, respectively, so it makes sense they're untouchable. However, any deal involving Iguodala, Thompson, David Lee or Harrison Barnes would surely be a big one.
This post has been edited for accuracy.
• NBA newsletter: Good morning, it's a shakeup in Cleveland
• The Hook: Did Dan Gilbert's impatience doom Chris Grant?
• Doug Eberhardt: Please don't retire, Steve Nash
• The weird new NBA slam dunk contest format, explained
• Flannery: How far can John Wall carry the Wizards?