The Brooklyn Nets got a vintage dose of The Truth on Wednesday night, topping the Miami Heat, 96-95, behind one of Paul Pierce's best performances of the season. The future Hall of Famer scored 29 points on 9-of-12 shooting to lead all scorers and power the Nets' latest winning effort.
With both Deron Williams and Joe Johnson struggled most of the game, Pierce consistently stepped up to lead Brooklyn's offense. The Nets' starting backcourt shot a combined 4-of-18 from the floor, recording twice as many turnovers as made field goals.
LeBron James had another relatively quiet game for Miami, putting up 19 points and seven assists in 38 minutes. Chris Bosh led the Heat with 24 points and seven rebounds, while Dwyane Wade added 22 on 8-of-11 shooting.
The Nets are now one game away from an incredible season sweep of the Heat.
Carmelo Anthony led the way with 34 points, but Tim Hardaway Jr. might've been the real star for New York in this one. The rookie out of Michigan needed just 11 shots to get his 22 points, efficiently supplementing the offense on a night when 'Melo took 25 shots and powered the first unit.
The Celtics, on the other hand, were having a tough time: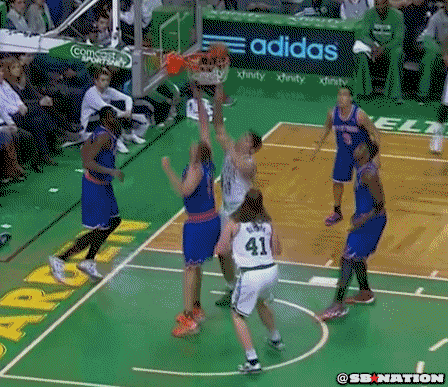 Without Rajon Rondo and Avery Bradley, Boston looked lost much of the game. Kris Humphries was the only player to shoot better than 50 percent from the field, hitting 6-of-9 shots en route to 15 points. Jeff Green led the Celtics with 27 points, but otherwise recorded just two rebounds and zero assists, steals or blocks in 41 minutes.
Early on, these teams were sort of playing defense, but it was a straight up shootout by the end. In the fourth quarter, the Magic actually outscored Denver, 38-35. Tom Thibodeau probably would've cried while watching those 12 minutes of tape.
Kenneth Faried, Wilson Chandler and J.J. Hickson each topped 20 points for Denver, while Ty Lawson recorded a double-double with 17 points and 12 assists. The Nuggets committed 14 turnovers, but dominated the boards and shot 51 percent from the floor.
Orlando just can't seem to find an identity at this point. Tobias Harris played just 19 minutes on Wednesday, while Maurice Harkless was a borderline disaster in 29 minutes. Arron Afflalo scored 24 points against his former team and Nikola Vucevic added 20 points and 16 rebounds, but neither could stop the Nuggets' onslaught.
Detroit is a bit of a mess these days. That was all revealed first-hand in a pathetic 14-point loss to the Raptors on Wednesday. From mounting turnovers to missed free throws, the Pistons simply didn't put together a solid effort against Toronto.
The negatives for Detroit are pretty obvious to see: 16 turnovers, 10-of-24 shooting from the free throw line, a massive 54-39 deficit on the boards. The Raptors didn't play particularly well in this one, but lucked out by facing an opponent that's completely lost at this point in the season.
Brandon Jennings actually had a good game for the Pistons, scoring 24 points on 10-of-15 shooting, but he also missed all four of his free throw attempts. High-scoring point guards simply shouldn't be missing free throws like that, particularly when they insist upon leading by example.
The Sixers literally may never win again.
Sacramento didn't even play well in this one, turning the ball over 21 times, but Philadelphia is beyond terrible at this point. There's really nothing else to say, and nothing else to recap. The 76ers are a miserable bunch, and the real news will come when that ineptitude ends.
Rudy Gay led all scorers with 27 points thanks to a 16-of-19 effort from the charity stripe. Isaiah Thomas added 20 points, six assists, five rebounds and four steals in the win.
Low scoring, gritty and close right to the end -- this had all the trappings of a classic Memphis win. Nobody really played spectacular for the Grizzlies, but an incredible defensive effort in the second half proved to be enough for the comeback win.
At halftime, Memphis actually trailed 57-48. That's pretty hard to believe considering the final score, but the defenses took control in the second half. The Grizzlies outscored the Pelicans over the final 24 minutes, 42-31, to complete the surprising rally on the road.
Anthony Davis led all scorers with 29 points on 9-of-14 shooting. He also grabbed 10 rebounds and blocked four shots.
Al Jefferson scored 26 points, Michael Kidd-Gilchrist delivered a double-double and the Bobcats showed off an impressive defense on Wednesday. We don't talk about the Bobcats too much, but when they're matched up against the right opponents, it's impressive how they can shut down certain matchups.
The Wizards, certainly a team with questionable shot selection, proved to be just that. John Wall and company couldn't get consistent cracks at the rim, and the subsequent flurry of mid-range jumpers proved ineffective. It was all by Charlotte's design, and an impressive effort at that.
Wall led Washington with 23 points, while Bradley Beal added 18.
Also, apparently people in DC prefer big, slow cats to GWiz, the Wizards' mascot, which is surely what Washington's marketing folks hoped for: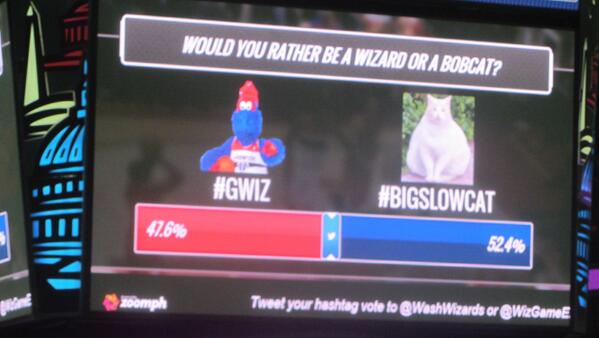 (via @adammcginnis)
Another day, another brutally efficient effort from Dirk Nowitzki. The big German delivered 31 points on 12-of-14 shooting against Utah, carving the Jazz's young bigs for basket after basket. The Jazz have one of the league's worst defenses, and you never would've thought differently in this one.
The Mavs shot 53 percent as a team on Wednesday, including 13-of-21 from three-point range. That long-range performance proved to be a defining aspect of the game, as the Jazz shot just 5-of-26 from beyond the arc. Switch around those numbers and you have a drastically different end result.
Nowitzki was the big star, but Monta Ellis also filled the box score with 16 points, 11 assists and seven rebounds. Trey Burke led Utah with 20 points and six assists.
Blake Griffin scored 30 points and grabbed 15 rebounds to lead the Clippers to their ninth straight win. Golden State led 56-54 at halftime, but the Clippers pulled away in the second half, thanks to plays like this from Griffin:
Klay Thompson led the Warriors with 26 points in defeat.