The Chicago Bulls have been on a tear lately and Thursday night was no different. The No. 4 team in the Eastern Conference decimated the Houston Rockets, 111-87, at the United Center.
All of the Bulls' starting five scored in double digits, with Mike Dunleavy leading the way with 21 points on 8-of-15 shooting, all of which came in the second half. Joakim Noah, typically, orchestrated the game plan for coach Tom Thibodeau with 13 points, 10 rebounds, nine assists and two steals. Chicago beat Houston at their own game, going 14-of-24 from beyond the arc.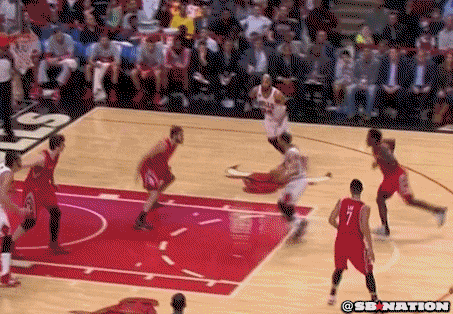 Houston, meanwhile, didn't have a single starter score in double figures beyond Dwight Howard, who had 12 points on 5-of-7 shooting, adding 10 rebounds and four blocks. James Harden, who has been nothing short of brilliant offensively, had just eight points on seven shots to go along with five turnovers. The win is yet another step for Chicago as they try and catch Toronto for the third spot in the East.
The Bucks did all they could to hold off the late-game surge by the Atlanta, but Kyle Korver was lights out in the fourth quarter and the Hawks came away with a win with under four minutes remaining. Milwaukee led through most the game until a defensive adjustment by Atlanta stymied their attack, allowing them to score just 14 points in the third quarter.
SAAAAAAAUUUUUUZZZZZZZZ pic.twitter.com/v7ZJ6qb1PI

— Robby Kalland (@RKalland) March 14, 2014
Korver, who finished with 15 points, scored 12 in the fourth quarter alone, going 3-of-5 from three to help the Hawks grab the lead. Jeff Teague was efficient offensively, dropping 22 points on 7-of-10 shooting, adding eight assists, three rebounds and two steals. Despite their 17 turnovers, Atlanta came away with the victory as they fervently clutch at the last place in the Eastern Conference playoff race.
The Thunder never really lost control of this one, even when Kevin Durant picked up his fourth foul early in the third quarter and had to sit for much of the period. The Thunder exploded for 41 points as Russell Westbrook helped take care of business with Oklahoma City rolling.
For Los Angeles, Kent Bazemore was the lone bright spot in an otherwise dim evening, notching 16 points on 7-of-17 shooting, adding seven rebounds, an assist and a steal. Jodie Meeks contributed 19 points as not a single Laker had a positive +/- for the game. Russell Westbrook poured in 29 points in 23 minutes of play, shooting 9-of-17 from the field with nine assists, three steals and a block. Serge Ibaka added seven blocks to go with his 15 points and 13 rebounds. Kevin Durant finished with 29 points.