Carmelo Anthony scored 34 points, Amar'e Stoudemire added 21 and the Knicks surprised the Pacers with a 89-80 win at Madison Square Garden on Wednesday. Avoiding the season sweep, New York won with defense on a miserable night from Paul George.
Phil Jackson was in the crowd, and approved: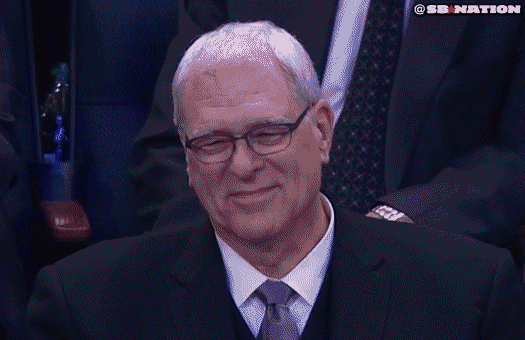 The Knicks extended a 47-35 lead by halftime before withstanding Indiana's charge in the second half. Continuing an unfortunate trend for the Pacers, George shot just 2-of-9 from three and 4-of-17 overall, trying to force the rally with his perimeter shot.
New York is now 1-0 since hiring Phil. Mission accomplished!
After winning a couple games to snap their recent slump, the Miami Heat seemed right on track with a 34-22 lead after the first quarter Wednesday night. Boston slowly climbed back into things from there, eventually taking the lead early in the third quarter as LeBron James sat out with back spasms.
Rajon Rondo had one of his best performances since undergoing ACL surgery, recording nine points, 10 rebounds and 15 assists to narrowly miss the triple-double on Wednesday. While he's struggled with his shot since returning, Rondo has 29 assists in his past two games.
Without James, the Heat struggled defensively, but still shot 49 percent from the floor. Dwyane Wade led the team with 17 points on 7-of-17 shooting, while Mario Chalmers had 11 assists. Chris Bosh had an off-game, scoring just six points on 3-of-11 shooting.
Tony Parker scored 25 points, giving the Spurs their 11th consecutive win and sending the lowly Lakers to a third straight defeat. Kawhi Leonard (22 points, 10 rebounds) and Tim Duncan (12 points, 16 rebounds) added double-doubles for the team with the NBA's best record.
Xavier Henry led Los Angeles with 24 points off the bench, while Paul Gasol added 22 points, 10 boards and six assists.
Everyone talks about how well Brooklyn has played since the New Year, but Memphis similarly found its groove after the holidays. The win over Utah on Wednesday pushes the Grizz to 26-10 over the past two-plus months, putting the team firmly in playoff contention after seemingly being in trouble not too long ago.
Marc Gasol has been at the center of the Grizzlies' resurgence, and he played well against the Jazz's young bigs. The reigning Defensive Player of the Year recorded 20 points, 10 rebounds, four blocks and three assists while playing strong defense on the likes of Enes Kanter and Derrick Favors.
Trey Burke, Alec Burks and Gordon Hayward scored 16 points apiece to lead the Jazz.
Oh hey, Philadelphia lost again.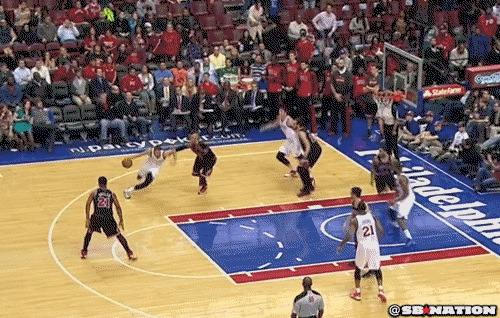 That makes 22 in a row, although this game was actually somewhat close, so I guess they can hang their hat on that. The score was tied, 85-85, midway through the fourth quarter, and Philly had a chance to make things interesting in the final minute while trailing by three, but couldn't score another basket.
Joakim Noah had another snappy game for the Bulls, leading the way with 14 points, 10 rebounds, six assists and four blocks. Jimmy Butler played 46 of 48 minutes in this one for Chicago, which is probably as absurd as it sounds. He finished with 16 points, six rebounds and four assists.
Thaddeus Young led Philly with 24 points, four rebounds and four steals.
Brooklyn keeps rolling in 2014 with a home win over Charlotte. This game actually had some playoff seeding implications -- the Nets are the current No. 5 seed, 3.5 games ahead of the No. 7 Bobcats after a victory on Wednesday.
Deron Williams scored 11 points in the fourth quarter to help put the game away. It was a pretty classic D-Will performance, with the point guard racking up 25 points on 8-of-15 shooting and eight assists.
The Bobcats dominated the boards behind Al Jefferson's 18-point, 12-rebound outing, but struggled with turnovers and subsequently let their defense falter. The team still hasn't won a game at Barclays Center, dropping to 0-4 since the Nets moved there last year.
New Orleans didn't have Anthony Davis due to an upper respiratory infection, and wouldn't you believe it, the team struggled to replace him. Handing extra minutes to Al-Farouq Aminu, Greg Stiemsma, Alexis Ajinca and Jeff Withey panned out about as you'd expect.
Without Davis protecting the middle, DeMar DeRozan had a field day attacking the rim for Toronto. The All-Star guard finished with scored 31 points on 9-of-19 shooting, while Kyle Lowry added 23 points and eight rebounds in the victory.
The Pelicans managed to keep things close by shooting 54 percent from the floor, but got pummeled on the boards and hit just four three-pointers. Aminu led the team with 19 points on 7-of-8 shooting and 10 rebounds in 33 minutes off the bench.
Ricky Rubio had one of the best games of his young NBA career on Wednesday. The Spanish point guard went for an incredible triple-double of 22 points, 15 assists and 10 rebounds in the win, marking his second trip-dub of the season and third in two-plus seasons.
Led by Rubio's brilliance and a 35-point effort from Kevin Love, the Timberwolves snapped their ongoing slump in close games. This marks just the fifth time Minnesota has won a game by five points or fewer this season, compared to 13 losses in similar situations.
That unfortunate statistic pretty much sums up why the Timberwolves don't have a realistic shot at the playoffs this season.
Dirk Nowitzki led Dallas with 27 points, though he needed 27 shots, grabbed just three rebounds and didn't record an assist in 39 minutes. Shawn Marion added 16 points, 11 rebounds and five assists.
Without Ty Lawson, Wilson Chandler, Danilo Gallinari, Nate Robinson and others, the Nuggets needed someone to step up offensively on Wednesday. That player was Aaron Brooks, who delivered an incredible 27 points, 17 assists and six rebounds in the win.
For a former Most Improved Player of the Year who's fallen on hard times, Wednesday was a rare night of resurgence from Brooks. He looked as good as he has since that surprising season with the Rockets four years ago, tearing up the Pistons defense for numerous baskets and easy set-ups.
The Nuggets ended up shooting 51 percent from the floor behind Brooks' great performance, topping a Detroit team that continues to struggle on both sides of the court. Greg Monroe led the Pistons with 22 points and four steals.
Goran Dragic had 18 points and six assists to lead Phoenix to a home win over Orlando. The two teams were tied a halftime but a 57-41 second-half run paced the Suns to their second-straight win. Phoenix was able to pull within 1½ games of Dallas for the eighth and final playoff spot in the Western Conference.
Tobias Harris led the Magic with 23 points and pulled down nine boards in defeat.